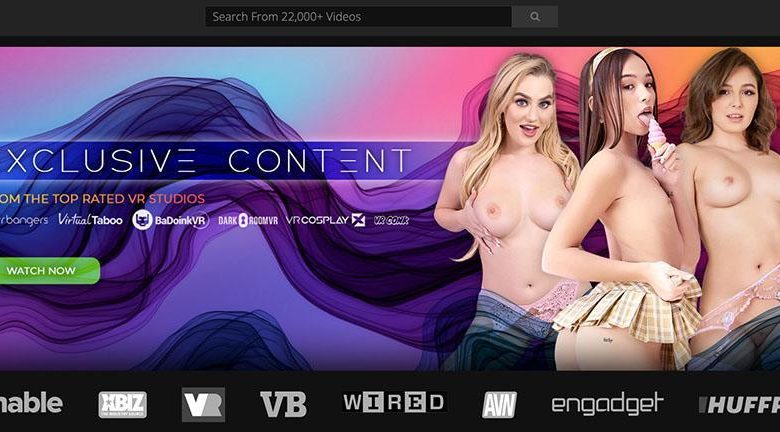 Many readers will already be familiar with VR porn but for those unaware it's the next evolution of adult entertainment. Via a VR headset, viewers can now immerse themselves in 3D renderings of a wide range of sexual encounters in which they, the viewer, usually play a role. A huge step up from the POV (point-of-view) porn that has proven endlessly popular, VR porn lets viewers enjoy feeling like they are participating in a hot and sweaty hookup with a popular pornstar or gorgeous amateur performer.
Covering all kinds of sex acts with women, men, trans individuals, and even CGI animated characters, VR porn brings fantasies to (virtual) life in a truly convincing and deeply arousing way. Finding the best VR porn currently available isn't always easy. VRPorn.com changes that.
What is VRPorn.com?


When searching for the best VR porn on offer, it can make sense to cast a wide net. That can end up being too time-consuming and confusing with there being so many options available. Different studios have different styles, casts, and sexual interests. You can always keep your options open while keeping quality high by joining a site like VRPorn.com. Having been called "the Netflix of VR porn" by such mainstream publications as Mashable, VRPorn.com has not only the largest collection of VR porn on the 'net but a great reputation among fans, creators, and press alike.
VRPorn.com is a fully featured collection of the best VR porn experiences from leading studios based in a wide range of countries presented via a clean, easily navigable interface. Although it can be viewed on a desktop, laptop, or mobile device, easily the best way to enjoy VRPorn.com is via your favorite VR headset. With a Premium subscription, any user can instantly stream any VR sex experience in the enormous catalog.
Is It Worth It? My VRPorn.com Review


Spending your hard-earned money on a VR porn subscription often involves a leap of faith. Many porn consumers buy a pass to a studio site only to find that most of the content doesn't really interest them, or that it becomes too repetitive over time. Acting more like a standard TV streaming service than any single-studio membership site, VRPorn.com takes care of that issue.
It's almost inconceivable that a user would run out of VRPorn.com content that turns them on and gets them off when you consider that this site features virtual porn from leading studios, amateur producers, and indie outfits. From the simplest one-on-one hookups with hot women to wild group sex in 360° scenes, kinky fetish activity to cosplay romps with your favorite fictional characters from pop-culture properties, every porn niche and style is represented at VRPorn.com.VRPorn.com also hosts an impressive collection of interactive VR porn games, many that can be played right in your VR web browser window, as well as guides to using VR, blogs about the intersection of tech and porn, a free VR app for the easiest possible viewing experience, and even a swath of live VR cam shows.
Content and Variety on VRPorn.com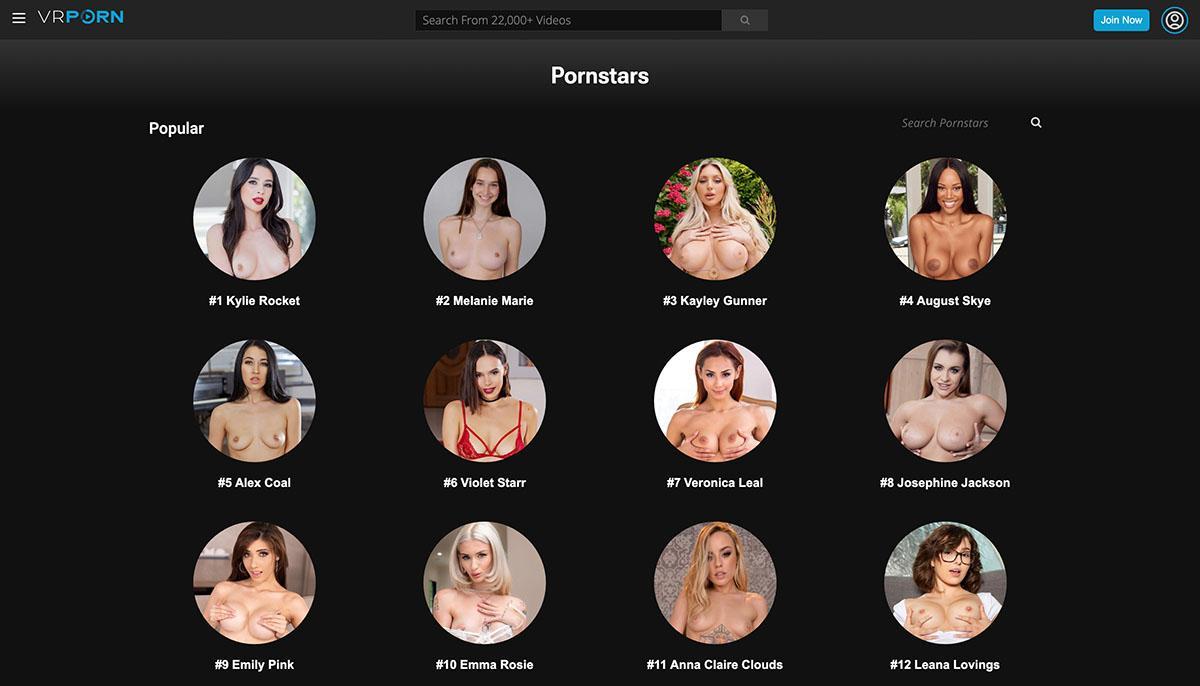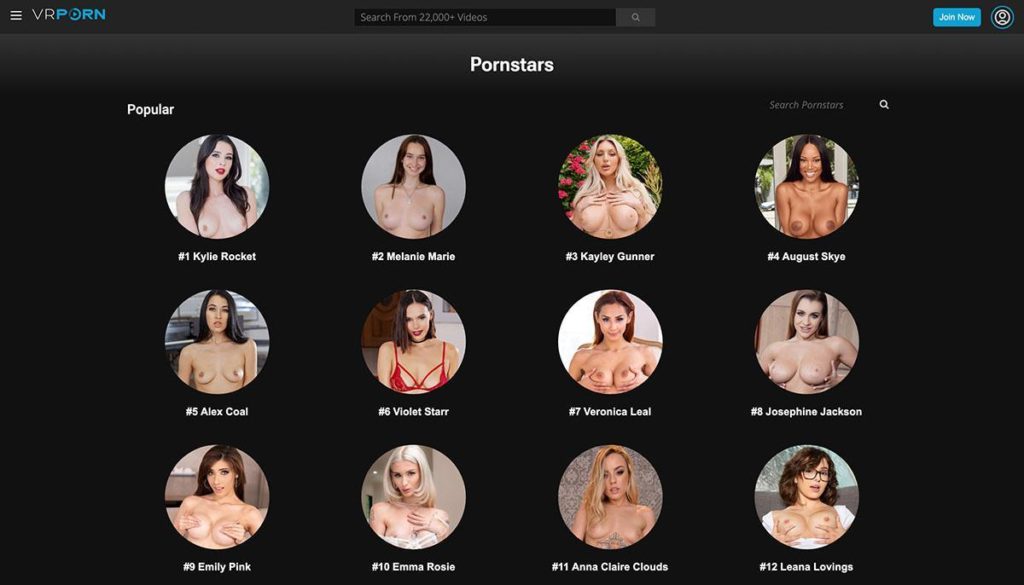 VRPorn.com has earned its reputation as the leader in virtual reality adult entertainment. The catalog of VR porn experience holds more than 20,000 full VR videos and games from top tier creative entities and is constantly being updated with new experiences to enjoy.
The cast of performers you can slide into VR and hook up with numbers more than 3,500 pro pornstars and amateur models. You will see familiar faces and discover awesome new talents, and, best of all, you can bang them in all vivid and immersive 3D VR experiences.
VR is only as immersive as its audio and visual quality can allow. VRPorn.com doesn't skimp on the lush detail and features plenty of VR porn encounters in stunning 8K UHD resolutions as well as the lower res, but still very satisfying, 4K-7K range. Whether you choose a 180-degree experience to keep your focus trained on your partner or opt for a 360° virtual world to enjoy, immersion in the virtual space is always brought to the user.
Sound, an often-undervalued part of any porn production, is also done very well here. Binaural recording brings you spatialized sound that's great for making any VR experience believable while also being perfect for ASMR excitement.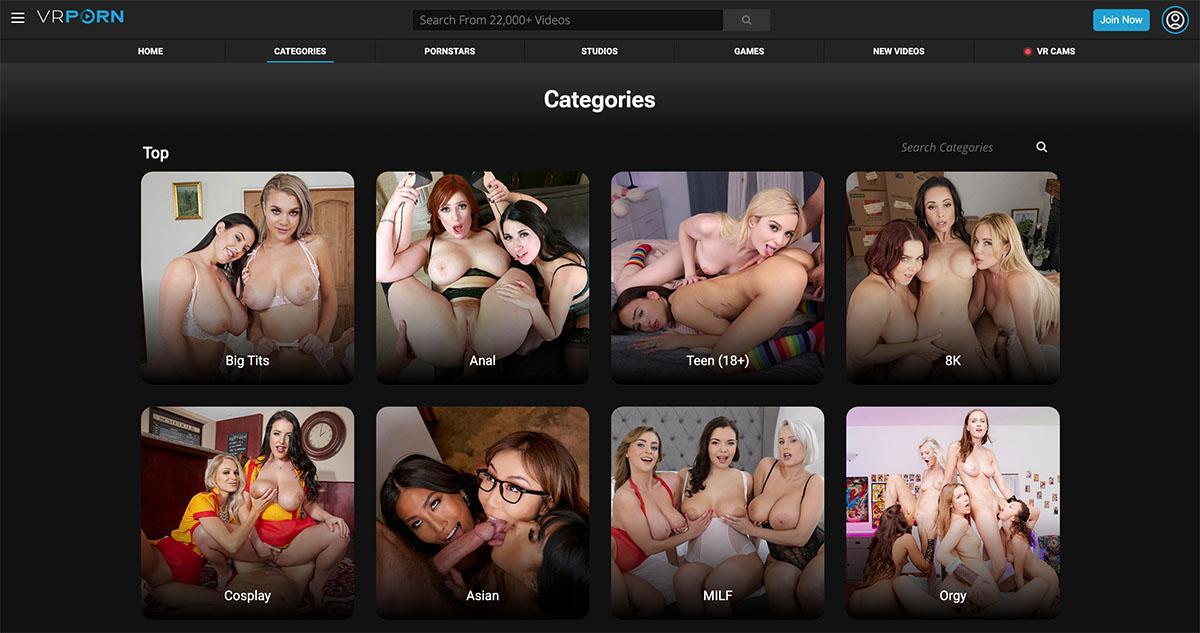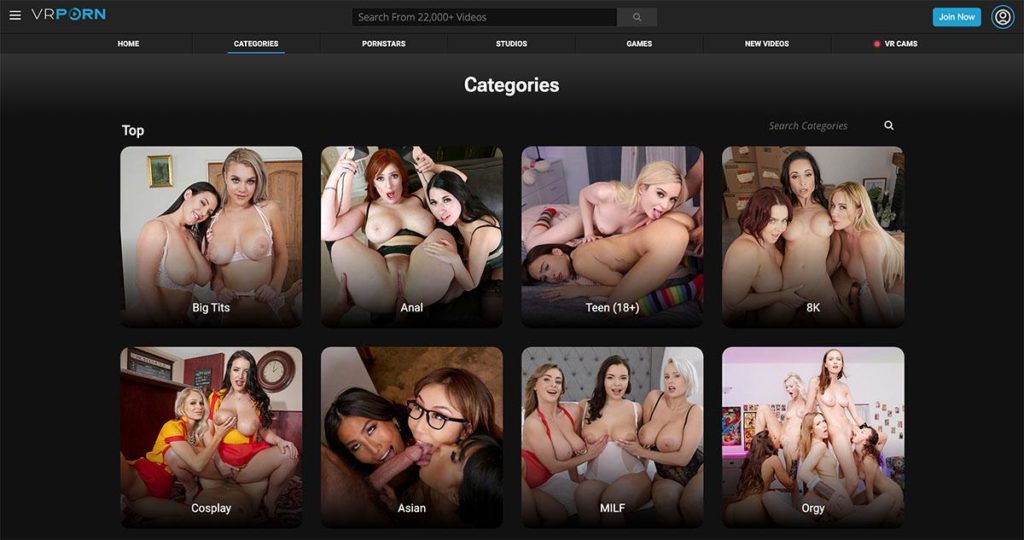 As noted above, VRPorn.com covers all styles and niches of porn, as you will see on its Categories page. From anal sex, big tits, and cosplay to trans, wives, and yoga, there's nothing you can imagine that isn't made available here. Fans of gay porn, trans, and all-female sex are also well catered to with VRPorn.com holding a very large collection of each.
VRPorn.com Design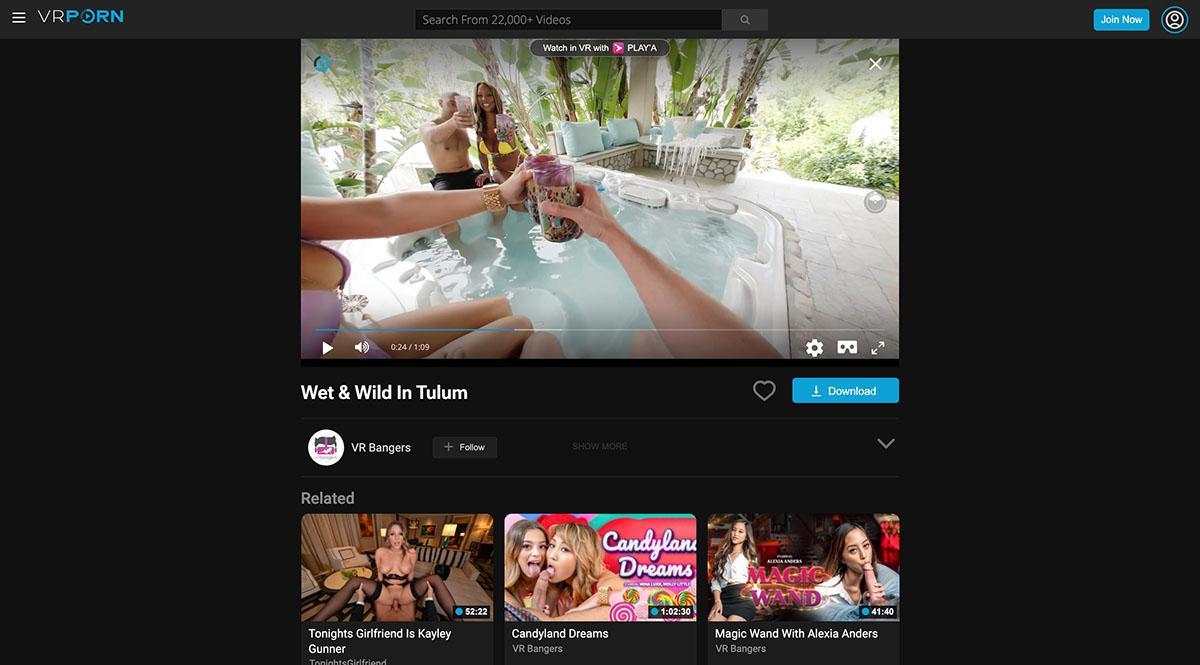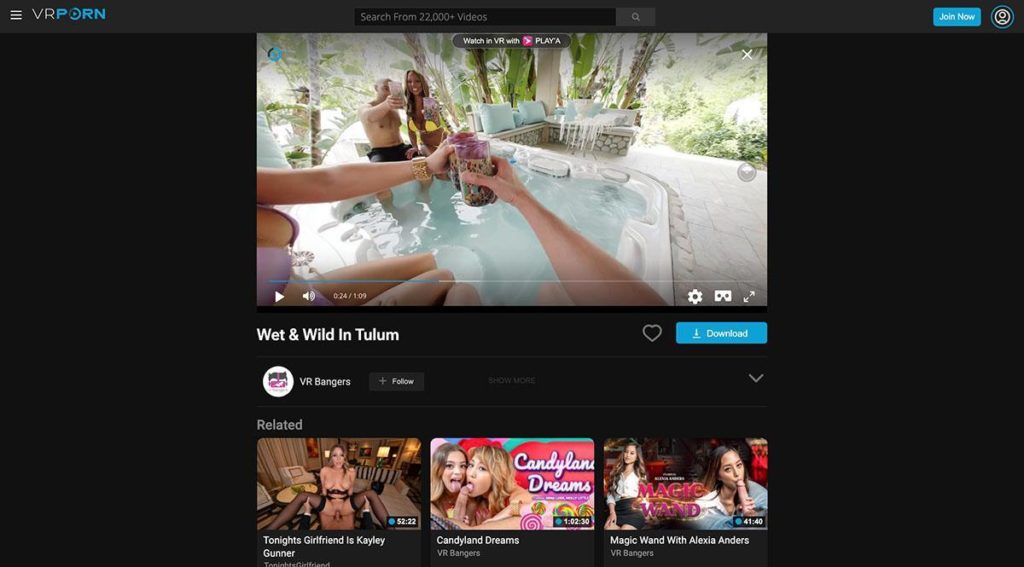 Visually, VRPorn.com is clean and well laid out in a 'dark-mode' color scheme and style. Except for the endless images of naked and sexually active bodies, you wouldn't expect this to be a hardcore porn site, it's that professional and modern. That doesn't mean it lacks personality, of course.
VRPorn.com is also very easy to navigate and you can leap right into a VR sex experience if you view the site from your VR headset's web browser. Large graphic banners showcase new and popular VR experiences and give you excellent teaser shots to get you excited.
Menus are well presented and, although there are many options to choose from and directions to take your browsing, it never gets overwhelming.
VRPorn.com Features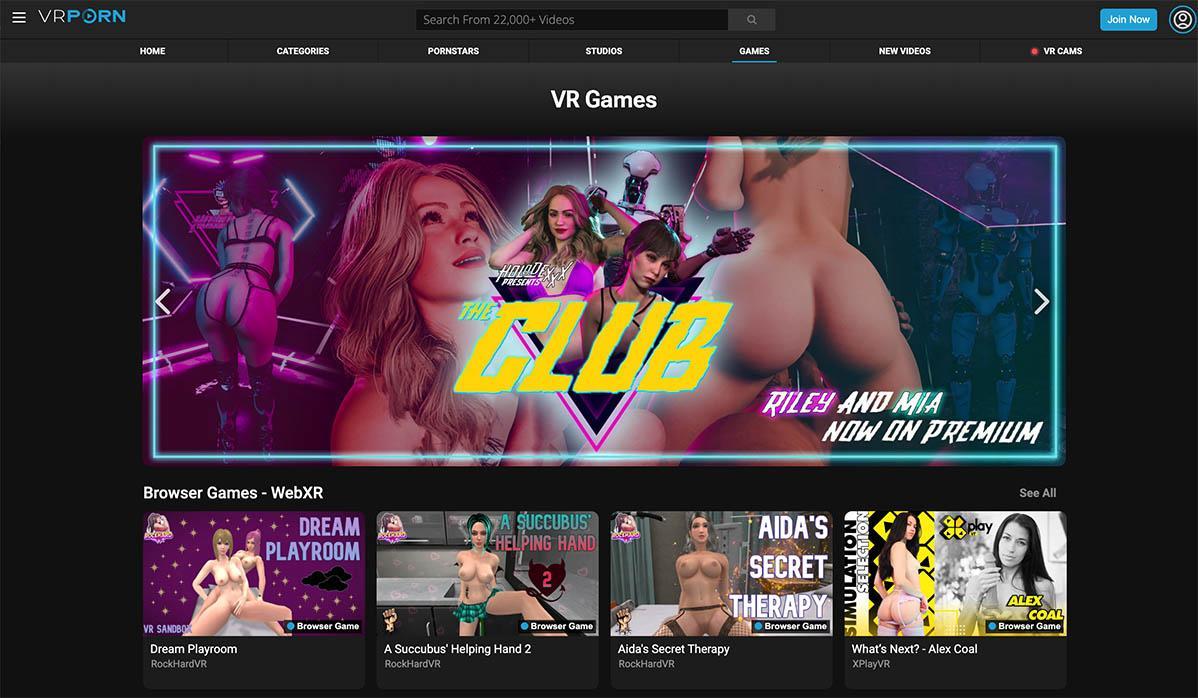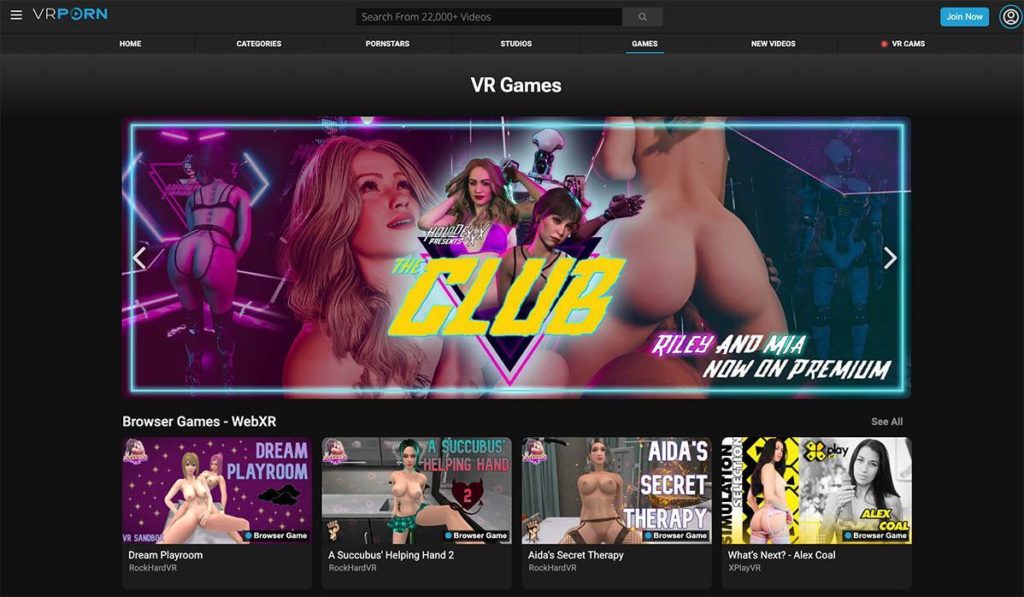 VR porn games – Gamers and porn fans can enjoy the best of both worlds with a wide range of VR porn games that let you interact and customize your adult entertainment. From simple browser-based WebXR adventures to deeply involved sex simulators, there is a sizzling hot gaming experience here to suit everyone.
Headset support – VRPorn.com supports all major and minor VR headsets and devices. It also offers support for various devices in the form of guides to get new uses and up running without delay.
Free PLAY'A app – VRPorn.com can be viewed via the free VR viewing app PLAY'A. This is an easy and fluid way of exploring and enjoying the huge amount of content hosted here, all from your VR headset.
Blog – Anyone wanting to keep up-to-date on all the news from the world of VR porn, and the intersection of technology and porn more generally, can do so with the regularly updated VRPorn.com blog.
VRPorn.com Pricing


One month – $24.95 ($0.67 /day)
One year – $95.40 ($0.26 /day)
Lifetime – $449.95
Other VRPorn.com Customer Reviews
–    "I tried a few VR porn studio sites but got a bit bored of the same style of videos over and over again. VRPorn.com has a huge variety and there's always something new to discover."
–   "This collection is a virtual buffet of full-length, high-quality immersive scenes from all the best VR studios."
–    "Top studios, popular performers, frequent updates, and support for most HMDs are all reasons why VR Porn is a good value. In my opinion, few sites offer such a diverse range of high-quality content, making this VR porn site worth your time.-    I had some trouble getting started with my Quest 2 but when I found a guide on setting it up for porn games at VRPorn.com it was much easier. The games are super fun, too!"
VRPorn.com on X
My Final Verdict
If you're not sure exactly what kind of virtual reality porn you want to enjoy but you know you're keen on finding out, there's no better place to do that than at VRPorn.com. The huge catalog of high-quality VR experiences and creative VR porn games means there's something here for everyone.