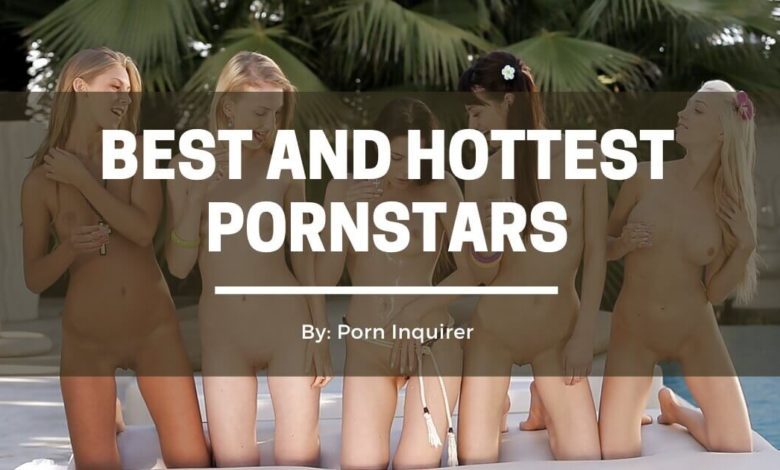 Isn't it annoying when blogs create fake lists of hottest Pornstars only to turn out to be complete duds? That sucks (and not in a good way!) The Porn Inquirer team knows how that is, that's why we've decided to help our readers in need with the ultimate list of the best pornstars!
Here, you'll see both newbie and popular porn stars with a stunning figure that includes: a tight pussy, big wet asses, raw sexual charisma, a stunning butt, a gorgeous face, and sexual prowess. They make shooting porn look natural, passionate and hard. Curious to see who makes the list? And just in case you're super horny and want to bust a nut, check out these three sites below.
The Top 18 Best and Hottest Pornstars List
There are two major factors that we weigh the hottest and sexiest pornstars list, as we make our top choices, and these are:
Sex appeal – The perfect female performer not only embodies an absolute stunner, but she must also be able to take any hot scene with much ease and conviction. Whether it involves taking thick cocks in an anal scene, or enduring a rough fuck, she should make it look convincing. All her porn scenes must be executed well too!

Popularity – The sexiest porn stars must have a good-sized number of followers, all who worship her—regardless if she's been on only for a few years or forever. We also don't discriminate against the oldest or youngest pornstars. As long as they are a facially attractive female performer delivering during sex scenes that count (think hardcore scenes, anal scenes, even BDSM scenes).
Eva Elfie
Eva Elfi is a Siberian dreamgirl who started her career in porn as early as 2018. Now in her 4th year of doing porn, this is what she has to say, "Most of all I like playing computer games, but also I can play with some more interesting toys. Sometimes I read books without any clothes too."
Don't let her petite figure of 5'4, 100 lbs fool you. She can take quite the load!
---
Angela White
What's to expect from a Brazzers exclusive star herself? Angela White is the hottest name in porn right now, making guys' cocks ramrod straight. She currently ranks 3rd in PornHub and has over 115 million profile views.
When Angela was first introduced to pornography, she always understood that she has to be a part of it. She says, "I wanted to be able to express and explore my sexuality in a safe environment with other open-minded sex-positive people."
---
Emily Willis
The Los Angeles-based brunette is a self-titled "Award-winning butt slut." How did she win this moniker in the first place? She just happens to be a recipient of the "Best Anal Sex Scene Award" in 2020. A big feat considering her dainty figure.
She has 85 million profile views and ranks 6th in PornHub. You can see more of her via OnlyFans. As for her turn-ons, she shares, "Cock and pussy. I love having both at the same time."
---
Sweetie Fox
Anime and furry fans, you'll want to know more about this sweetie. Currently ranking first in PornHub's model list, Sweetie Fox is a vulnerable vixen who's asking to be spanked and punished.
Want proof? This is what she has to say, "I am a little cute girl and I love my big daddy. We like sex and experiments!" Her ultimate turn-ons include daddy themes, BDSM, role-playing, and blow jobs (lots of it.)
---
Violet Meyers
Make your hentai dreams come true with this AAA busty Latina who's guaranteed to give you a boner. She started her career in August 2018 and has been active ever since. Her scenes helped her rank in PornHub, where she now enjoys the 9th spot with over 313 million video views.
The brown-eyed babe confessed that her turn-ons include kissing, cologne, weed, and confidence. If you possess those, you have a strong chance of bedding her.
---
Gabbie Carter
Gabbie is a dream girl with a round ass categorized as one of the petite babes. Her petite body makes us jerk off more and more when seeing her on-screen. We sure hope she doesn't quit porn anytime soon!
She's one of the hottest bombshells who takes cocks like a champ in all her holes, does some of the best lesbian flicks, and even gives us a peek into her solo time to top it off!
---
Lela Star
You've likely seen Lela's work on most porn sites. This porn actress deserves a spot among the best pornstars because she worked her ass off (quite literally) bringing you perfect angles of big dicks (or big cocks, whichever you call them) plowing her from behind.
The 34-year-old embodies the spicy and sexy style associated with her Latina roots, and she's willing to be as naughty or as nice as anyone she takes on in any of her juicy (yes, we mean it in that way) videos.
---
Lana Rhoades
Next on the best pornstar's list is none other than Lana Rhoades, who has cemented herself in our hearts and the adult industry. She has caused more than a few cocks to become "cemented" on the way too. She never ceases to amaze us, as her professionalism in porn productions is way beyond her years.
At 5'3", Lana is the kind of girl whose build is conducive to the adult industry. She's ready to do just about anything you could want to do to her, and she doesn't take herself overly seriously in the bedroom, which is just awesome!
---
Riley Reid
You all knew that Riley Reid was on the list, didn't you? How could she not? A new Riley Reid porn scene being released gives you a feeling akin to that of your favorite series releasing three new seasons. Her willingness to fuck and her enthusiasm towards everything she does makes her stand head and shoulders above her counterparts.
You never get the feeling that you're watching a performer, as she brings a sense of genuineness, whether she's taking on a cock, a pussy, or even herself.
---
Mia Malkova
Mia Malkova needs no introduction because is one of the hottest well-known stars. The 27-year-old has been at this for some time and maintains her title of being one of the sexiest and best pornstars to ever grace the entertainment medium.
Every time you look at her, you just want to fuck. She is so damn attractive, and you fall under her spell more and more every time you see just how much of a whore she can be. After all, she was badass enough to audition for her first role with her mom watching.
As one of the best pornstars there is out there, we'll see her more with production houses like Reality Kings, Digital Playground, and Naughty America, if she continues her stellar track record.
---
Vina Sky
This 20-year-old is the definition of no limits. She's been at this since her teen days, and she continues to make us wonder how she does the things she does with that petite, albeit sexy body of hers.
She has a liking for huge cocks, and she treats them like a real slut should. It's not all about the men though, as she shows the ladies a great time, in her orgasm-inducing lesbian flicks. We're impatiently looking forward to whatever she brings this year.
---
Elsa Jean
With a nickname like 'Dream,' do we have to say anything more for Elsa Jean? This girl is the reason that you should never judge a book by its cover. At 5'3" and 100 lbs., you'd think that any sexual activity would break her, but it's quite the opposite.
She's a former stripper, who has brought a lot to the industry and has garnered a lot of love from lustful cocks around the world. The moment she starts riding one, you simply can't stop watching.
---
Abella Danger
This 19-year-old deserves a spot as one of the hottest pornstars in the porn industry. Her age doesn't affect her performance in bringing out the best, that's why even the best porn sites have her scenes there.
The AVN and XBIZ awardee has displayed some of the sexiest and sluttiest performances ever, and she does whatever her partners want whenever they want. There's nothing Abella Danger hasn't tried, and she can even go into a full split on a cock!
---
Madison Ivy
This 30-year-old German has the honor of being Brazzers' first-ever female contractor. This was seven years ago, and back then, Madison Ivy was afraid to do anal. You wouldn't be able to tell now though, as her ass is no stranger to action. Thriving in a competitive field like the porn industry is a huge deal for this European siren.
Her tits are huge, and they stand out even more because she's 4'11". She's received XBIZ and AVN awards and continues to resonate with our hearts and cocks. Her leg-shaking orgasms are to die for!
---
Lena Paul
This professional dominatrix has a figure enough to send you over the edge. Imagine the arousal-inducing combination of a 25-inch waist, a 36-inch ass, and 32DDD boobs! You can find all this and more in Lena. She initially started as a cam girl before making the switch to porn, and we're happy she did.
She has a little belly and a little more bush than some of her colleagues, as she said she'd never change herself for porn. This only gives her videos a natural feel, and you can see that she enjoys what she does.
---
Hitomi Tanaka
The name gives away the Japanese ethnicity, but did you expect her to have big boobs too? Her massive tits hang perfectly when she takes it from behind, and when she squirts, you may simply have no control over your hard cock and gaping mouth.
Anyone with half a brain would kill to taste her, and the people who do get to embody the kind of satisfaction you'd expect. She's one of the hidden gems of porn, but we see her very clearly and that's why she is one of the top pornstars.
---
Brandi Love
There was no question that Brandi would be on this list as she has been for a long time. She's a 46-year-old with a top ranking, and it is very well deserved. She's known for her numerous roles as a milf and a slutty wife in her videos, and she routinely takes part in some of the hottest threesomes in the industry.
Her body is very well-maintained, and there's no question that she still has a ton of content to offer. Of course, we simply can't wait for it!
---
Alina Lopez
This 24-year-old is known for her amazing body like others are. However, her super-long tongue is a standout feature, and Alina Lopez mastered the ability to use it to arouse us all in the best ways possible.
No matter what kind of video she's in, you can always bet on having a great time, and the pleasure on the face of her co-stars tells you all that you need to know.
---
Alex Grey
Alex is just as petite as she is a slut. Her innocent look draws you in, and the things she does in the bedroom keep you there. She's been killing it in the business, and one look at any of her videos tells you why.
When a girl wakes up daily wet and tingling, as she hopes for morning sex, how can you not enjoy her? We understand if you can barely contain yourself when you watch her please hard cocks and wet pussies.
---
Other Notable Top Pornstars
There's no denying that the babes highlighted above are some of the hottest, boner-inducing adult stars in the industry. The good thing about porn, however, is that you don't need to be one of the most magnificent porn stars in the world to be amazing and entertaining.
We wanted to give you a little something extra, and this comes in the form of a little bit of direction to some more of the hotties who deserve your undivided attention. You don't need to thank us now, but we have no doubts in saying that your enjoyment is just beginning.
As is the case with the others, we went ahead and verified what all these girls have to offer before introducing them to you. This process is the reason That we are confident enough to say that everyone below is a bombshell who can send you over the edge in many ways.
Rachel Starr
The 36-year-old is a well-seasoned brunette who demonstrates her vast experience in everything she does. One of her greatest assets is her ability to handle any role that she is given seamlessly.
She can play your traditional damsel in distress, a super submissive who aims to please, or the dominatrix who shows no mercy and only uses her pathetic sub for her pleasure. At 5'4″, she has measurements of 34DD-26-36, which clue you in on the kind of body that you are dealing with.
---
Ariana Marie
There is an Incredible allure to those girls who look super innocent but can become the freakiest of them all once the sex begins. Ariana Marie embodies this quality in every way, and this is the reason That she has managed to induce boners and cumshots very reliably since her porn debut in 2013.
At only 27 years old, this hottie has much left to offer the world, and her pretty smile, perky tits, and wet pussy are likely to seal the deal for you very quickly.
---
Tori Black
Tori walks the fine line between being one of the prettiest faces you have ever seen and one of the sluttiest girls on the planet. She has numerous accolades to her name, which only served the prove how well she does her thing on camera.
One of the attributes that makes her a superstar is a fact that she can take any genre and rock it. If you want solo acts, threesomes, or even group sex porn scenes, she can do it all. We only ask that you don't click and fap so much that your hands go numb.
---
Cassidy Banks
If you ever wanted your ebony and Caucasian girls to come in one package, look no further than Cassidy Banks. She's a mixture of both, which gives her a unique and sexy look that you may have withdrawal symptoms from if you don't see her for too long.
She's a real trooper with a pair of sweet tits, as she's willing to take on any challenge that is thrown at her, which leaves both us and her fellow stars very satisfied when it's all over. We won't be surprised to see her get plenty of offers from Cherry Pimps, Reality Kings, Digital Playground, and Naughty America, as she has the goods.
---
Alexis Fawx
Alexis is the embodiment of the term milf if there ever were one. She made her porn debut in 2010, and at 45 years old, she shows no signs of slowing down. 32DDD boobs and a sexy and slender figure complement her beautiful face.
Don't let her looks fool you, however, as she is always horny as hell and ready to go in some of the most compromising and cum-inducing ways you can imagine.
---
Alexis Texas
This Texan hottie is well known for her alluring bubble butt. She stands at 5'8″, which makes her one of the taller pornstars out there. She also has some of the most exceptional productions under her belt. She is one of those babes who has done incredible things on the camera and behind the scenes through her production company.
If you don't believe us about her legendary ass, consider the fact that she has starred in films, such as Buttwoman, and has won five different awards for how sexy it is. Check out our list of pornstars with the hottest ass, if that's your thing!
---
Nicolette Shea
The 33-year-old fits the bill of both slut and glamazon very well. She may be only 134 pounds, but she stands at an incredible 5'11". Her proportions are perfect, and she has released some of the hottest videos you can find.
While she can play the traditional slut very well, some of her best work comes out when she is punishing a lucky guy while pleasing herself.
---
Jayden James
The 35-year-old is one of the most naturally beautiful pornstars you can set your eyes on. If Jayden James' amazing looks and sexy body weren't enough to turn you on, then everything she does on-camera should do the trick.
Jayden James is beloved because she is always willing to push new boundaries for her fans. She has enjoyed hard cocks and wet pussies in some of the most innovative ways that you can imagine.
---
Dani Daniels
This 30-year-old is a freak in every sense of the word that you can imagine. Some of the best porn videos come when the stars are genuinely enjoying themselves, and Dani Daniels truly loves what she does.
She has an apparent affinity for BDSM in the role of a dominatrix. Somehow, she manages to enjoy being controlled just as much, and she ends up with an incredibly wet pussy in either situation. She always takes things to the next level in her videos, and we are sure that you are going to love everything she does.
---
Nicole Aniston
This petite blonde has risen to immense popularity during her decade-long career. Her small yet very sexy body creates more satisfied guys and girls than you can imagine.
Nicole's huge tits and fantastic shape are just complemented by her sexy demeanor, which causes those who watch her to become enchanted. We're sure Sex Chat Sites have talked much about her and for good reason.
---
Mia Khalifa
We are almost sure that Mia Khalifa needs no introduction, as she has consistently remained one of the top five pornstars for several years now. Her sex appeal is off the charts, and she has managed to make a hijab one of the sexiest things you've ever seen.
She has a fantastic body, huge tits, and a very adventurous appetite. We guarantee that the more you see her, the more you are going to want her.
---
First, Why Do People Love Pornstars?
When people flock to the Best Porn Sites, it's not always because of the best anal sex scene, best group sex scene, or hardcore sex scene. We do it because of our love of the best porn stars in the adult entertainment industry.
Whether they're newbies or already famous pornstars, these people bring life to wet dreams or the ultimate fantasy involving lesbian scenes, multiple cocks, or the best sex scene that features public sex or a three-way sex scene.
Where Can I View These Porn Stars?
Almost every porn scene that these girls do is a masterpiece. Therefore, there is no surprise that you are going to be interested in seeing them all wherever and whenever you can. There is quite a collection of tube sites and porn networks that you can use to see the action that you want.
A part of being a top star is using the top porn studios for porn videos and picture productions. Therefore, you can typically find these hotties on sites, such as Brazzers, Pornhub, Wicked Pictures, etc.
We have no doubts that all these sites can satiate your hunger when you want to see some of the sluttiest and sexiest girls in the porn industry get down and dirty. You can also view these models through their pornstar Snapchats or Snapchats nudes. All the sites that we have suggested excellent places to view high-quality work without interruption.
The sites also have excellent search algorithms that can take you to the action you want to see without a complicated process. The best part is that while you are poking around and viewing sexy, steamy content from the girls we highlighted, you get to discover others who can sweeten the pot for you.
Are These Hot Pornstars also Webcam Models?
The idea of live porn is probably an enticing prospect to you. Things get even better if a cam girl happens to be one of the amazing babes in the adult business whom we have discussed. Well, we have some incredible news for you, as these girls enjoy doing more than prerecorded porn videos.
They know that there are fans like you who can't resist an interactive session with webcam models. The porn star personality transitions to free sex cams very well, and there is a lot for you to enjoy in these live sessions.
Just remember to play nice as you enjoy all the naughty things that the best pornstar is willing to do for you as a webcam model to please you. Of course, they are all willing to do one-on-one private sessions for the right incentive.
---
Who Is the Sexiest Pornstar?
So, after our pornstar's list of 18 reviews of the top starlets, it's time to pick our number one and certainly one of the best, and it's none other than Riley Reid. We can't remember another top pornstar that held a top spot for as long as Riley did, and she's not out of contention just yet.
This bombshell surely has flooded numerous Dirty Snapchat stories because of the tricks she has under her sleeve. We can't wait to see what she will do next!
Who Is the Newest Pornstar?
Are you on the lookup for new pornstars? The 19-year-old Gabbie Carter is one of the newest and hottest pornstars in the porn industry for obvious reasons. Be that as it may, this new pornstar started on the right foot (though we'd love to take her off them). Her attitude is the kind that we like, as she's always ready for her next challenge, and we're looking forward to great things from her.
She has a great body, and her demeanor lends itself to an endless supply of sex appeal that makes men fight with their dicks to not cum too quickly. Given some time, who knows how high on the ranking she'll end up? Certainly, this new pornstar won't be her first time and only time on this list.
Our Final Verdict
While we named Riley Reid one of the best and hottest pornstars in the porn industry, she's not the only star on this list worth watching. She's just one of the hottest models in the porn industry. That choice was made because we had to choose one. On a normal day, we'd watch all 18 of them, and you can't go wrong in doing so. We recommend that you check them all out if you want real satisfaction.