VR is the next big thing across all forms of visual entertainment, and sites such as VRBangers have been one of the first on the scene. VR Bangers is one of the biggest companies providing virtual reality porn experience. I decided to get membership and write a complete VRBangers review of their product.
One of the biggest things about porn is that its enjoyment rests on some highly subjective factors. This is the reason for all those categories you see on almost every porn site you've ever visited. Don't pretend you haven't been visiting them now.
You may never use many of these categories, but you never know what other viewers enjoy. Categories are one thing, and all a site needs to do is have enough variation to stay appealing to a wide audience.
Delivery and innovation are also very important to keep the viewers coming back. While porn categories and video types haven't changed much over the past couple of decades, things like the storage media used and the way videos are delivered have changed a lot.
VR made its way into the porn industry years ago, and it caught on like a wildfire. The reason for this is obvious too. Apart from video games that offer full user control, porn is the most immersive form of entertainment you can get your hands on.
This is because of the way that viewers tend to view it. Do you just put on a porn flick like a movie and enjoy it with some popcorn?
The chances are that you become aroused when you begin to watch people enjoying sexual satisfaction. In fact, you probably started watching because you were already aroused. You may even start touching yourself in response.
The point is that one of the best things about porn is what it can do to you and how it can excite your sexiest desires. VR turns this up to 11!
---
What is VRBangers?

VRBangers is one of the options you have when you want to take your adult video experience past the boundaries of the POV category. Imagine the videos no longer feeling as if they are videos.
There's no screen and no barrier between your reality and what's in front of the camera. VR technology puts you right in there. The level of realism that you can experience is unlike anything words can describe.
In 2015, VRBangers began to provide viewers with a reliable source of videos that take advantage of VR technology. There's a huge emphasis on quality, usability, and customization, as the lineup can be enjoyed in a variety of resolution and quality settings.
The site isn't a niche one, which means that you can live out VR experiences across different categories. Things can get a bit boring when you're stuck with different versions of the same story and the same content.
VRBangers offers a level of variety that makes you continuously feel as if your porn-watching virginity is being taken.
The site has a sweet pricing scheme for those who want to subscribe, which rewards you for longer subscription commitments with reduced prices.
Is it Worth It? My VRBangers Review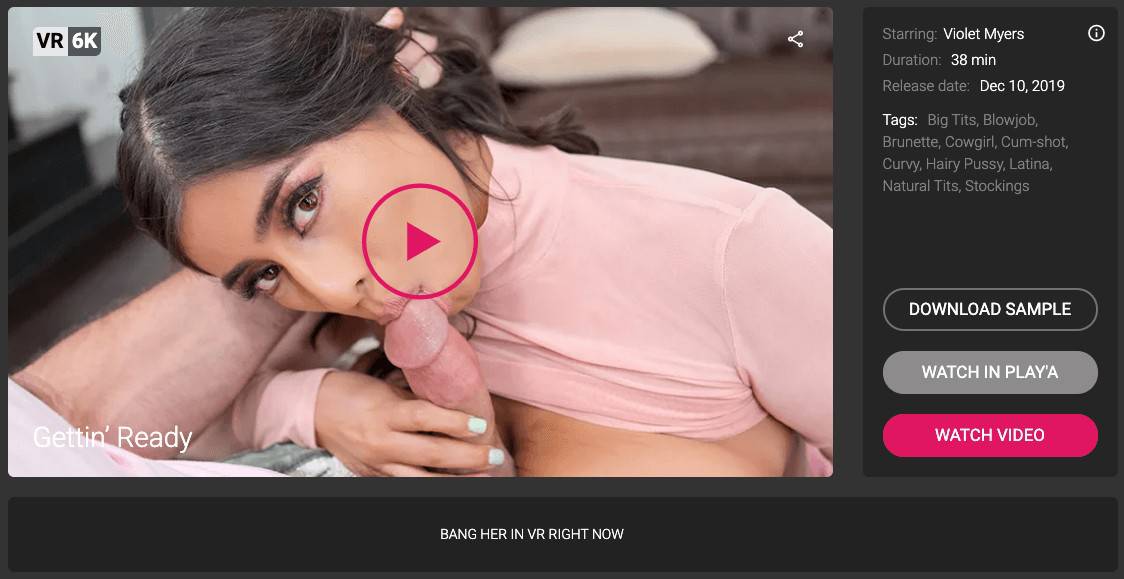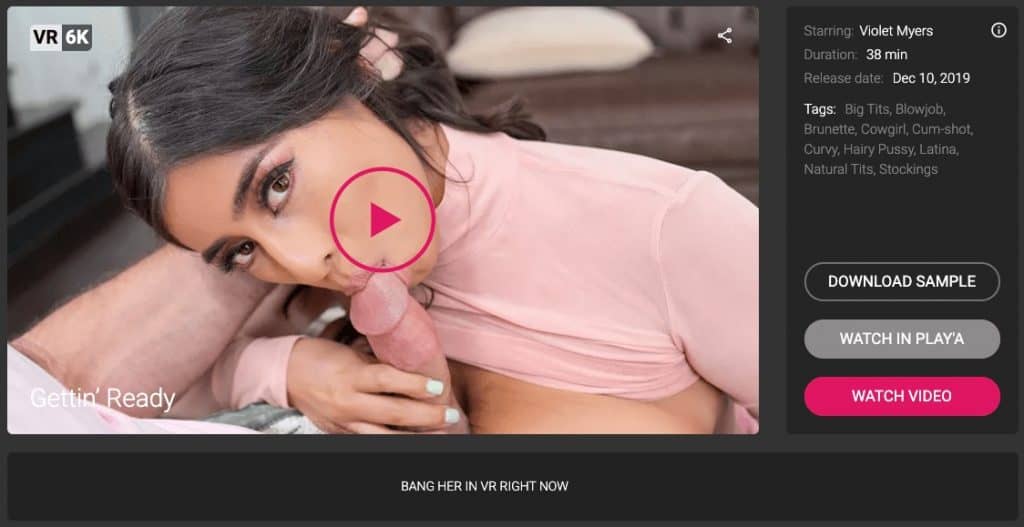 Whenever you must spend time or money on something, it's always good to take a step back and evaluate if its worth it. In the case of VRBangers, what are you getting for that monthly subscription fee?
First off, there are numerous scenes that have full VR support for you to enjoy. This isn't just static enjoyment either, as more sexy videos are constantly added, so you never run out of masturbation fuel.
Are you a video quality buff? If so, then there isn't a better VR porn site out there for you. What if you were told that you could enjoy VR content at a resolution of up to 6K? Does it sound too good to be true? Well, it isn't, as VRBangers offers this.
VRBangers is a feature-rich page too that is very easily navigated and exploited for your viewing pleasure. Speaking of being exploited, the page features a sexy VR video game for you to enjoy if you want a different kind of adult entertainment.
With all this in mind, the price is well worth your time and your dollar.
---
Content and Variety on VRBangers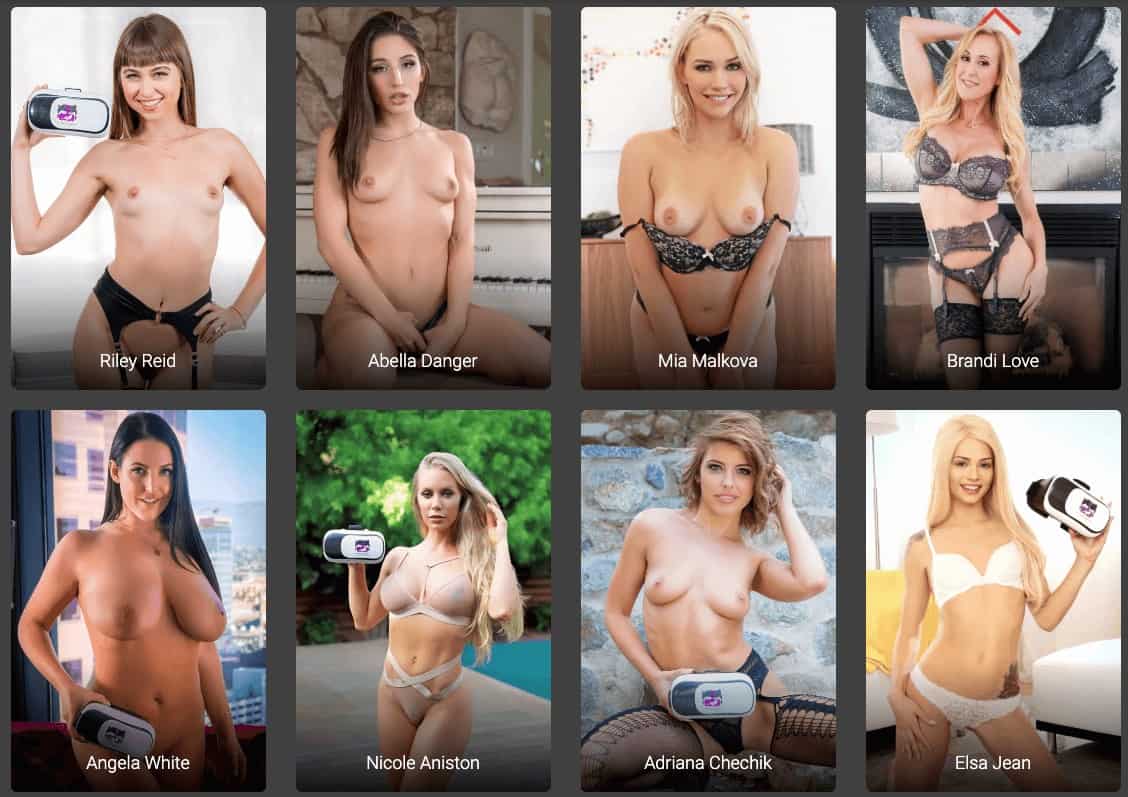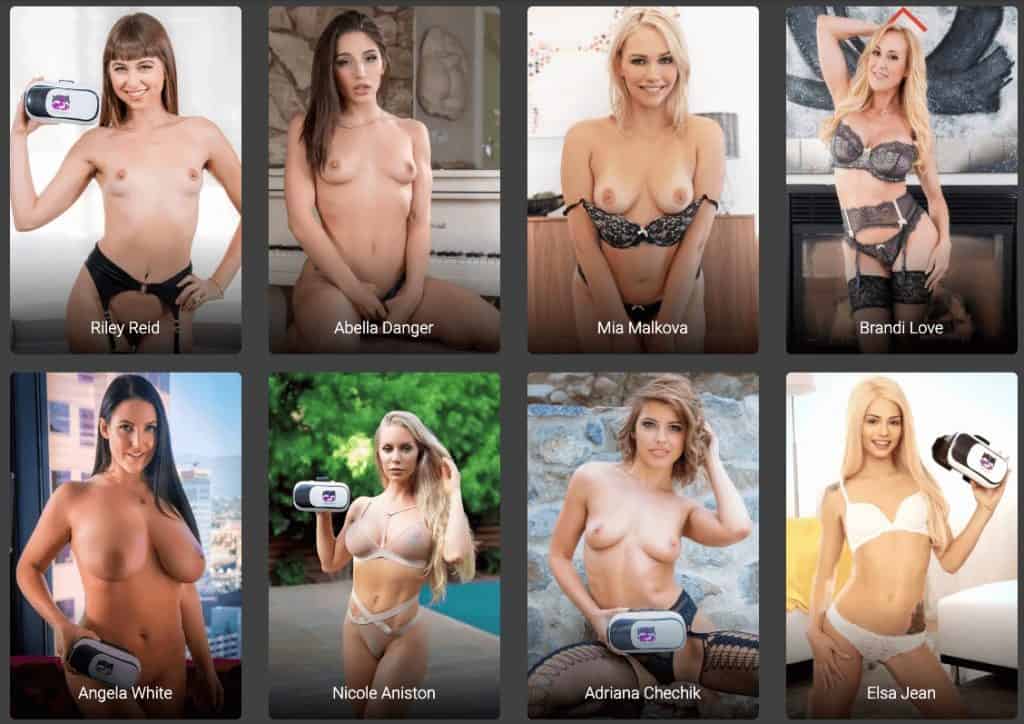 The content that VRBangers offers is meant to appeal to a wide audience. To this end, the site's content doesn't focus on niches or fetishes. However, there are videos to appeal to people who prefer that.
There are over 300 videos that have been masterfully done in VR with quality options that can make for a good display on a screen of any size.
Category filtering is allowed, and the criteria selection options are more than adequate. Apart from filters, you can also use tags to identify videos you want. Note that VR video experiences are added regularly. Experiences don't always need to be one on one either.
Many of the scenes you have access to include multiple women for multiplied fun. All scenes tend to run for 20-30 minutes on average, so prepare to spend a long time enjoying yourself as you watch your way through the sex catalog.
A VR sex video is one thing, but how many VR porn sites can say that they have a fully functional VR video game sex parody that is playable for the fan base?
The game is a Game of Thrones parody, and it is playable for every subscriber who owns an HTC Vive or an Oculus headset.
An important point to note in the field of vision option. Most VR sites display 180-degree VR experiences exclusively. While VRBangers also has a multitude of videos that fit that bill, there are many 360-degree experiences that allow you to stare at whatever you want.
---
The Design of VRBangers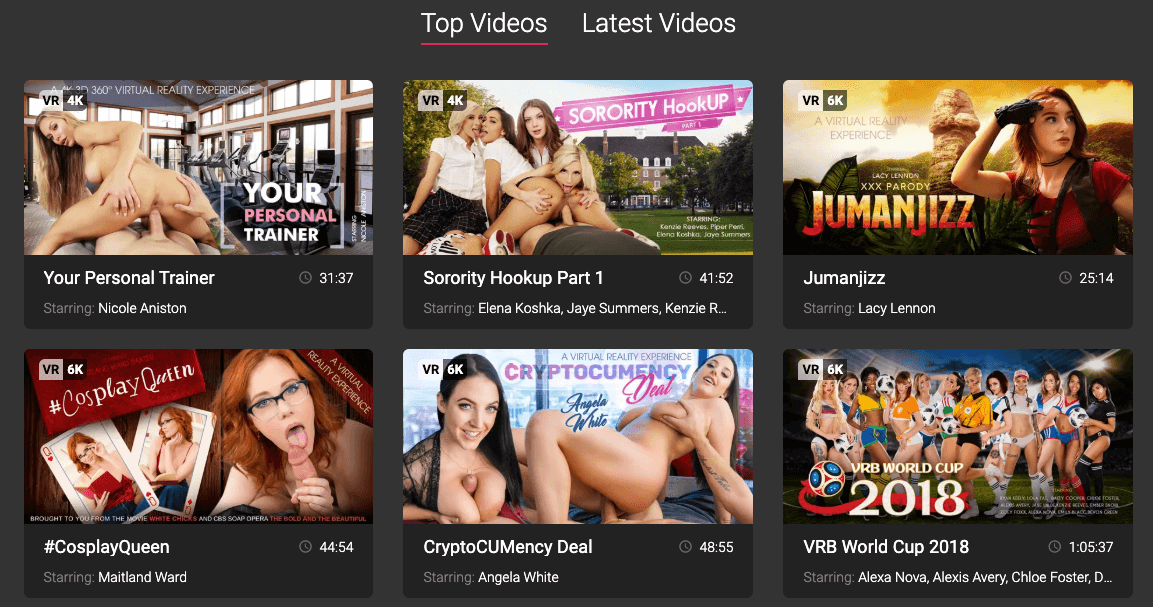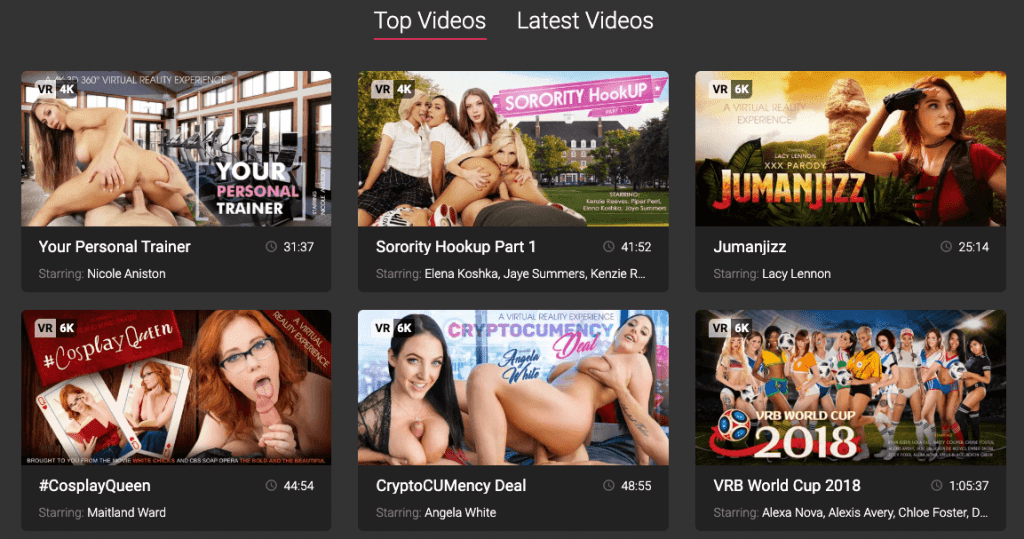 The design of the page can be considered strategic. The placing of pink and red to give intense yet subtle undertones is an indication of the way how things can go from zero to 100.
There's a clear display of the various awards the site has won over the last couple of years, which communicates a sense of quality. Menu options are also easy to reach, which allows for efficient navigation.
One very clever design choice was to wet the appetite of potential subscribers. At the top of the page is an area that displays hot snippets from the sexy VR experiences. The action is enough to make even the harshest critic want to peek inside.
---
VR Bangers Features


Here is a list of some of the wonderful features that VRBangers has for you to enjoy:
The Dragon MILF – A fully functional interactive VR gaming experience for the HTC Vive and Oculus Rift
VRBangers app – An app for phones that is optimized and allows you to browse and enjoy high resolution quality content.
Third-party player support – Bring your own VR player in the mix and enjoy your films the way you want to.
High-resolution content – The videos available on VRBangers go all the way up to 6K, which allows for immaculate viewing on any screen.
---
VRBangers Pricing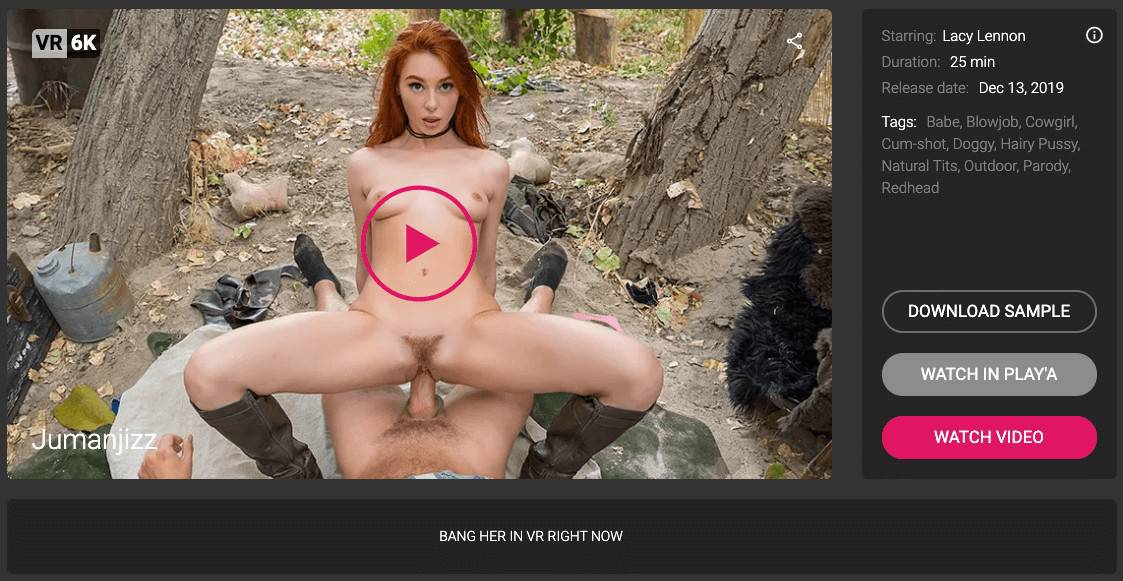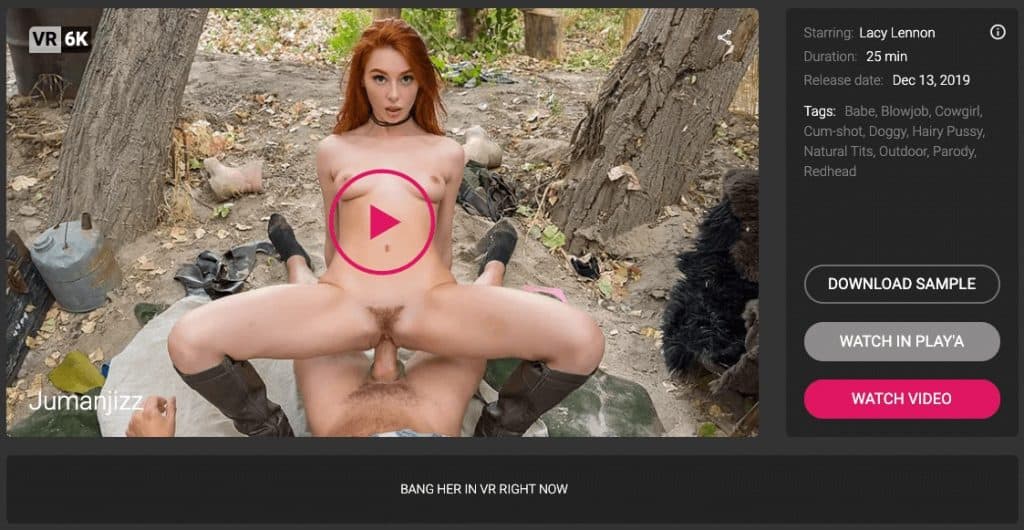 VRBangers is super affordable in its pricing scheme. In fact, it has most of its competitors beat in this department. There are two membership types, which each have three subscription period options:
VRB membership
One month – $25
Three months – $50
One year – $75
VRB + VRB Trans
One month – $40
Three months – $80
One year – $150
Most of these options work out to less than $1 daily, which is a steal. Make sure to check out the terms and privacy pages before signing up.
---
Other VR Bangers Customer Reviews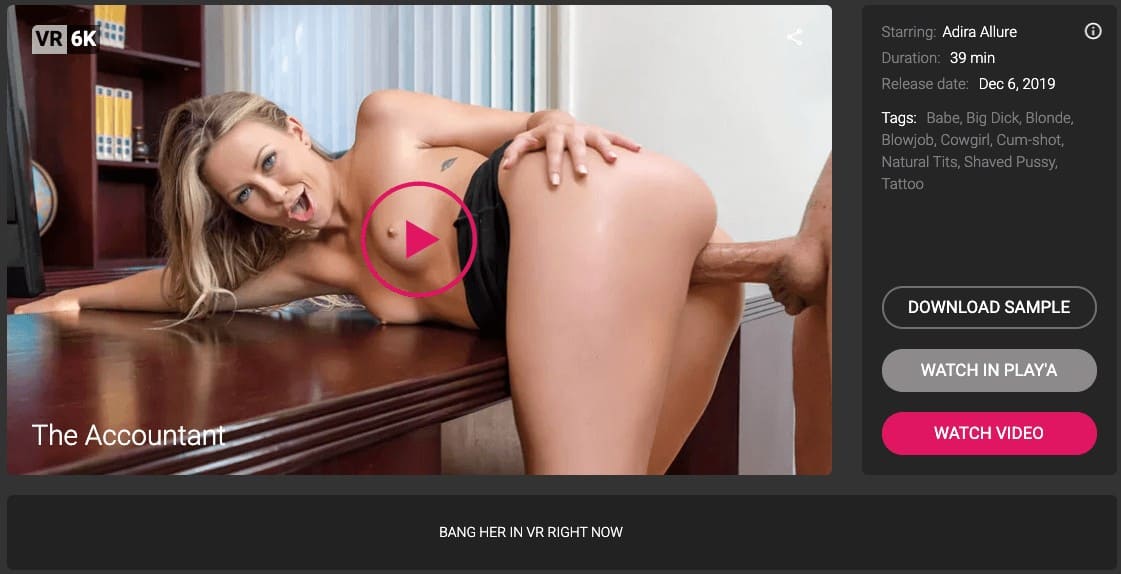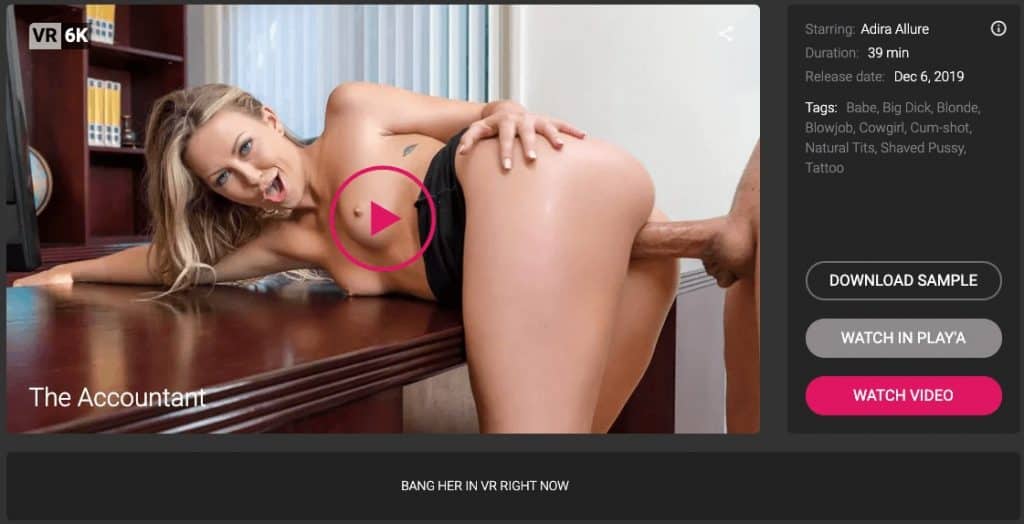 What's the best way for you to gather information about the quality and performance of something without using it yourself? The answer to that is customer reviews. Here are some samples of reviews from clients who used the service in the past.
"I don't know who invented VR, but I know that I want to thank the person because VRBangers is amazing. This should become the normal way to enjoy porn in the future."
"I always liked the idea of porn, but I never used to enjoy it. There was something missing though, as it was just me watching people have all the fun. I'd be lying if I said I didn't start researching the process of becoming a porn star. The actors were hot, and I wanted a piece. I decided to try out the VR option because it was supposedly able to make me feel as if I was in the room. I had my doubts when I bought my headset, but I decided to try VRBangers anyways. Well, here I am five months into my subscription. If that doesn't tell you all you need to know, I don't know what can."
"Whenever I use VRBangers, I have my hardest orgasms. I usually play with myself as some sexy porn star tries to please me. The feeling I get based on what I'm seeing is the bomb. I don't think I could love the service any more than I already do."
---
Other Comparable VR Sites
Comparable Site: Check out our review on 18VR
Comparable Site: Check out our review on VirtualRealPorn
Comparable Site: Check out our review on Pornhub VR
---
My Final Verdict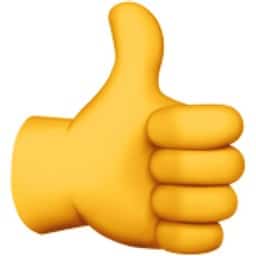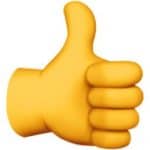 VRBangers is a great VR porn option for variety and high-quality video. With consistent updates, a functioning game, a 360-degree camera, and some of the lowest prices on the market, how can you get better value?
Take advantage of the steal and get to enjoy your sexy reality.
---