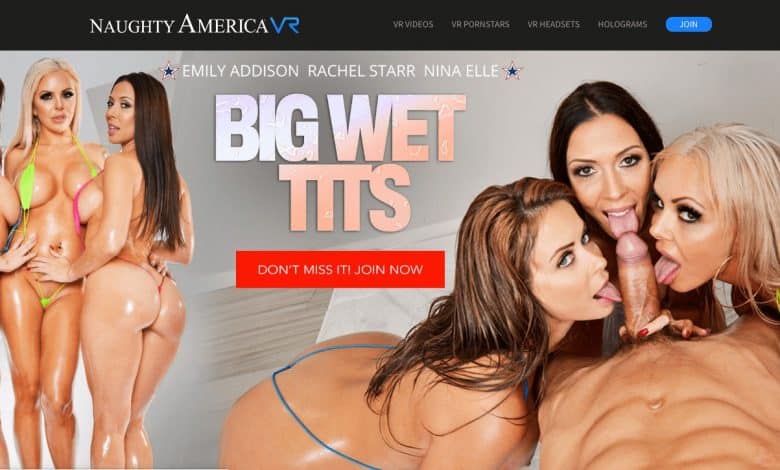 So you like quality porn and virtual porn. Or maybe you're a fan of Naughty America and want to know more about their VR collection. I decided to get on and check them all out. My Naughty America VR review post will answer all the questions you need to know.
Porn videos have come a long way from the days of just being on VHS, DVD, or cable TV. As the internet developed and became more mainstream, it became important for various media types to evolve with the times.
It's unlikely that sex content could ever get obsolete; however, it makes sense to switch to the platforms that most of the world use to consume their content. Of course, as you know, internet porn is unbelievably popular.
In fact, there is no one person who can accurately name all the porn sites that exist. There are no complaints about that because you can never have too much porn in your life.
Porn sites fall under either the free or the paid category. The difference between the two is like night and day. The actors, the quality, the flow, and everything are all vastly improved in the paid alternatives.
One such alternative is Naughty America. This site has existed for a very long time, and it has been providing amazing adult videos for years.
One of the things that keeps the site relevant is its ability to adapt. Even new resolution types are quickly adopted to maintain a certain quality for the viewers.
It's no surprise then that Naughty America threw itself headfirst at the VR train. Now, Naughty America VR is one of the top providers of VR content that makes you feel as if you're in the heart of the action.
---
What is Naughty America VR?
So, if you're not American and your references all reside in the world of Naughty America, you'd be led to think that all American girls are super-hot babes who can't get enough of sex.
Obviously, that isn't the case, but who wouldn't be willing to suspend their disbelief to take a step into that reality? Naughty America has been providing some of the most high-quality American porn content on the market. The stars are attractive, the action is intense, and the production is always top-notch.
It's hard to go through the site that features some of porn's finest such as Diamond Jackson, Riley Reid, Ava Devine, and Kira Noir, without wanting to jump into the screen you're watching.
Naughty America VR exists to help you jump through that screen and take the place of the person being pleasured.
The action you experience is the same arousing, heart-throbbing type that you can expect from Naughty America. The difference is that all of it has been rendered in VR, for you to make your fantasies into a part of your reality.
---
Is it Worth It? My Naughty America VR Review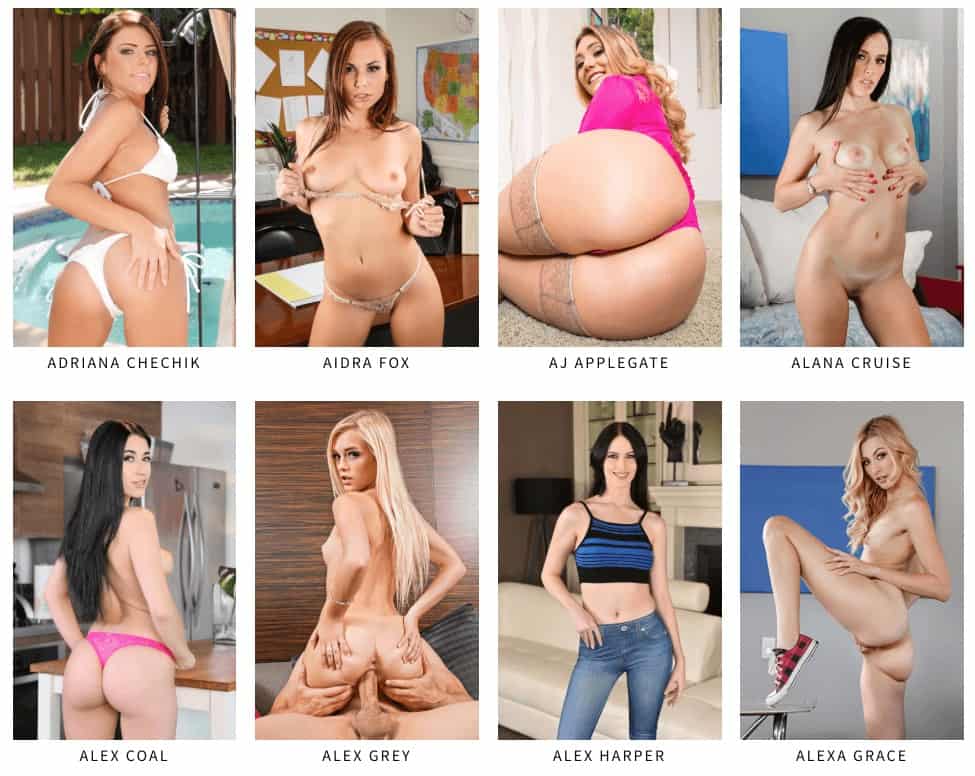 What can you expect to feel about subscribing to Naughty America VR? Should you expect to feel duped, or should you expect to feel as if you've made one of the best decisions ever? All indications point to the latter as there is quite a bit of value for you to enjoy.
First, you get a collection of VR and non-VR scenes for your enjoyment. So, if you want to step back and enjoy porn in its normal form, you're free to do that.
The catalog consists of a host of videos that feature hundreds of different stars doing numerous different things. This creates a sense of variety, as you never feel like you're viewing carbon copies of a single scene.
The existing content is not all you have to look forward to, since the site is updated on a weekly basis. So, you can always expect to see something new, though you may not be able to finish the existing catalog.
Note that scenes are in a beautiful 4K resolution, which makes for one of the most jaw-dropping visuals that you could ever imagine.
The content on the site can be streamed, but downloads are also permitted if you wish, so you always get to enjoy the site in the way you see fit.
---
Type of Content and Variety on Naughty America VR
Your subscription to Naughty America VR gives you access to content that is both on the site and content that is on non-VR affiliated sites. Even if you were to focus on Naughty America VR alone, there are thousands of non-VR videos that go up to 4K.
In terms of the VR stuff, there are over 500 videos for you to enjoy, and two more arrive on the scene every week. These videos feature over 300 stars, so don't expect to be seeing too many repeat faces.
The scenes last anywhere between 20 and 40 minutes, which means that there is some serious watch time for you to enjoy. If you want to watch what's hot or recent, there are filter options for that, just as there are filter options for certain actors.
There are over 400 categories for you to choose from with customizable options for who an actor is portraying (e.g., a teacher) and where the video takes place (e.g., a sauna).
---
Overall Design of Naughty America VR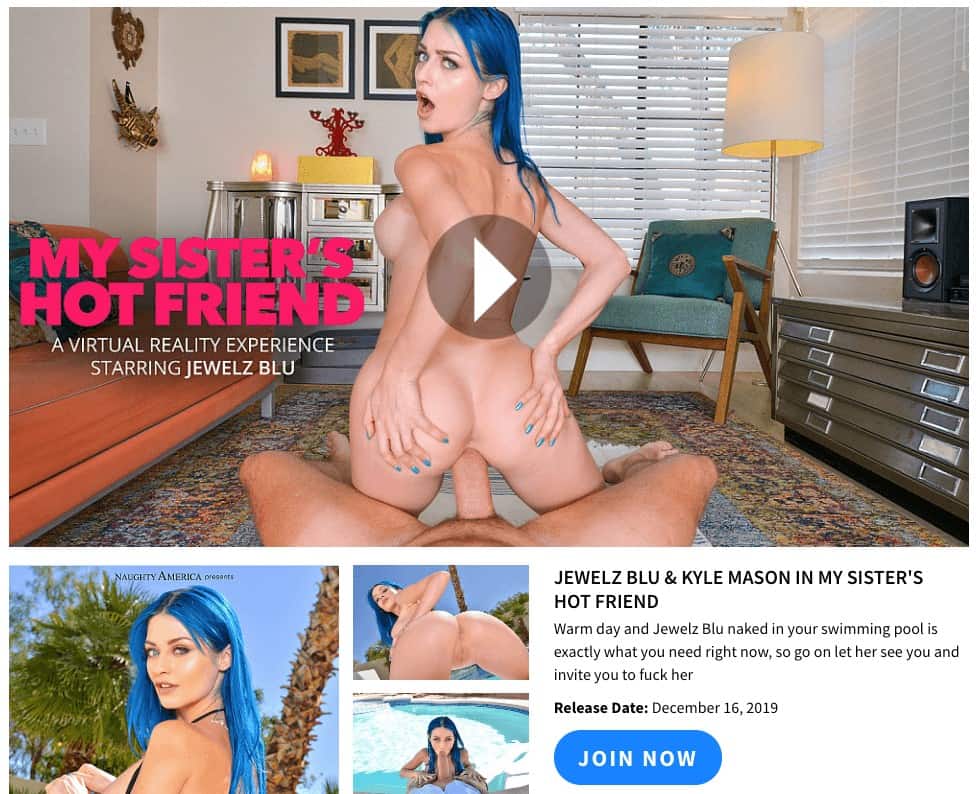 The design of Naughty America is one that can be characterized as both smart and very well thought out. The site starts off by showing you some of its latest and hottest videos with descriptions and very tempting thumbnails to make you want to dive in.
From there, you can easily navigate to the catalog of stars and videos, as well as the various features the site has to offer, such as the innovative hologram support.
There is a clear indication of which VR headsets are supported, and you are also provided with links and information to help you find the headsets for purchase and get everything set up to begin enjoying a VR porn experience.
---
Features of Naughty America VR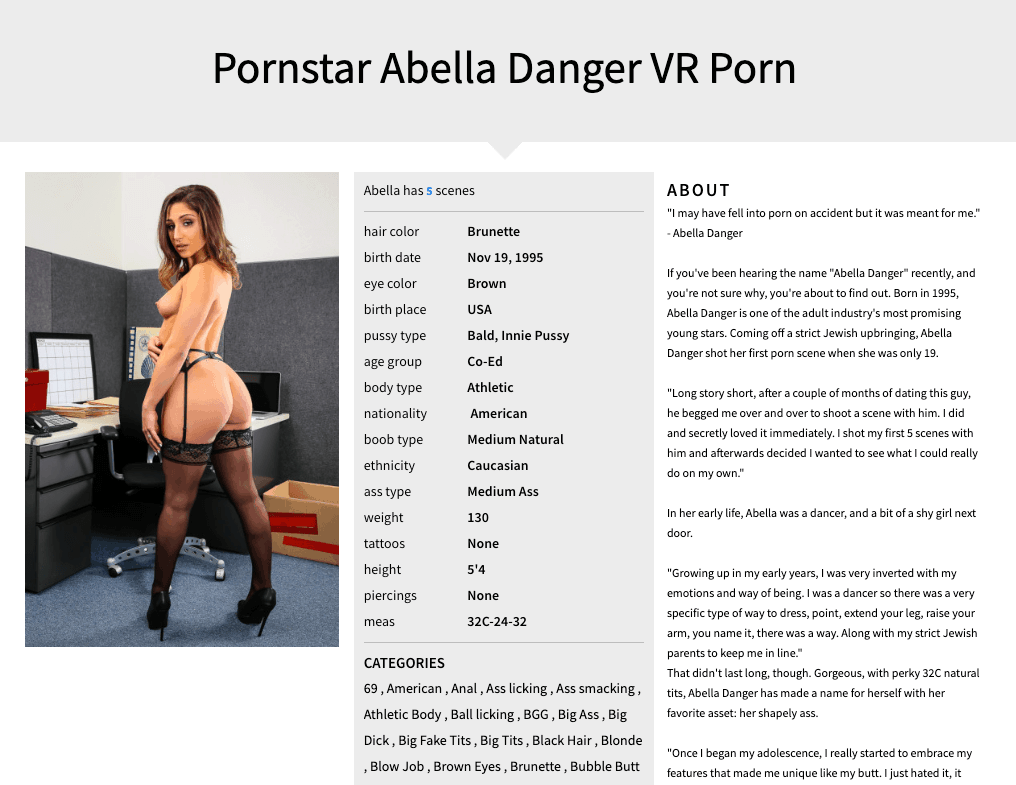 There are several features that the site has, as it ensures that you have the best possible viewing experience with the immersion you crave. Here are some of the most notable ones:
Great headset support – Naughty America VR has a great base where headset support is concerned, which allows you to enjoy it your way. Supported headsets include the HTC Vive, the Oculus Rift, the Samsung Gear VR, Google Cardboard, and the PlayStation VR.
Hologram support – Certain headsets can enjoy sexy holographic projections based on AR technology. These bring a whole new meaning to immersion.
Network access – Naughty America is part of a site network, which means that your subscription gets you access to other ones in the network.
---
Pricing of Naughty America VR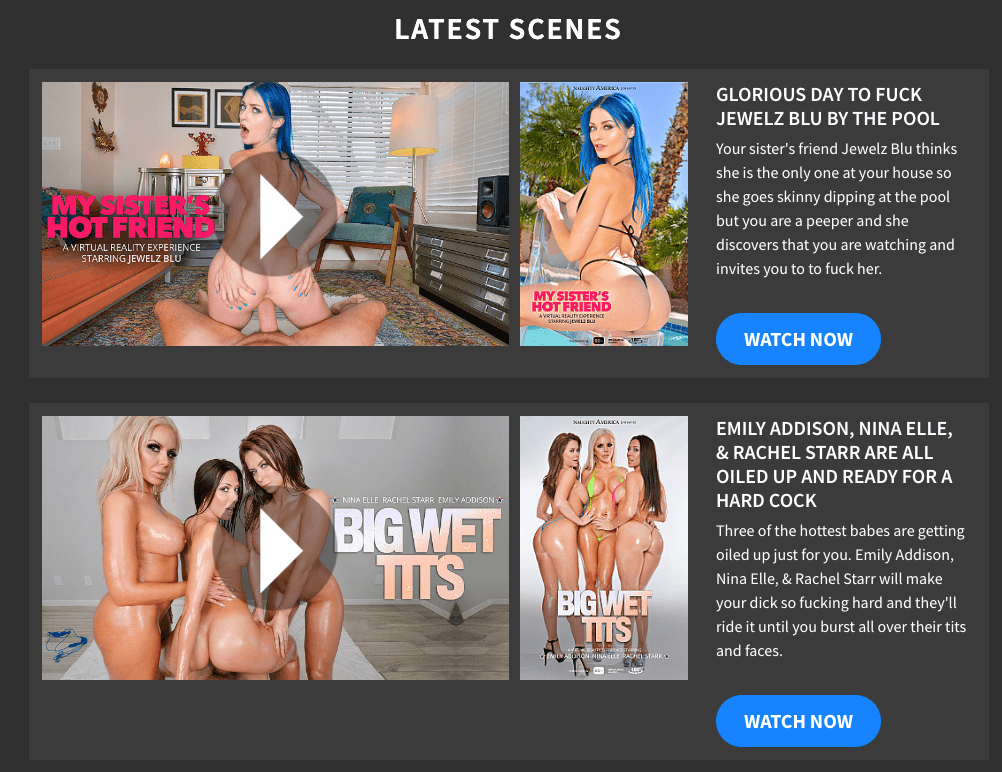 So, with all that information, you're probably wondering how much you can expect a Naughty America VR subscription to cost you. Luckily, all the answers you need are right here:
Three-day trial – This is for those who want to try before they buy. The cost is only $1.95, and it provides three days of content.
One-month – This subscription costs $29.95 a month, and you get access to some of the other sites in the network.
12-Months – This is where you can get some amazing value. If you opt for this subscription, there's a single payment of $95.40, which boils down to $7.95 monthly.
Bonus subscription – This one is also billed annually at the cost of $239.40. The difference is that you get memberships for seven other sites as a part of the bundle.
Make sure to check out the terms and privacy pages before signing up.
---
Other Naughty America VR Customer Reviews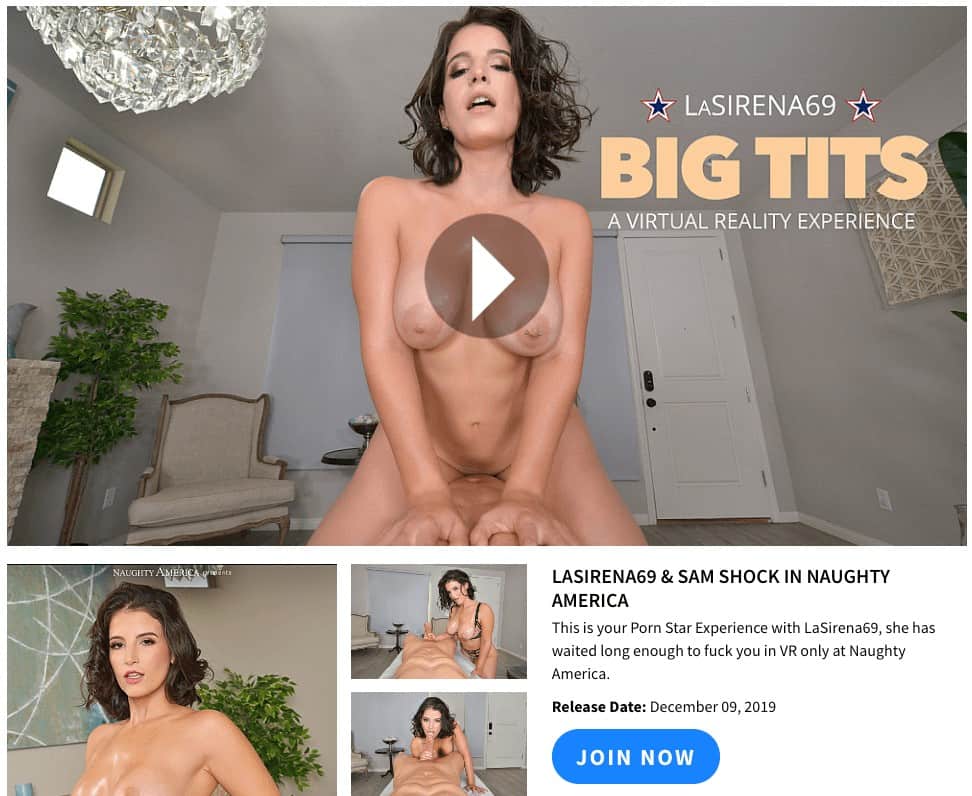 Naughty America VR has created quite the track record for itself. The site has only ventured into the VR space for a little over four years at the time of writing, but it has been a trailblazer because of the industry experience. Here are some reviews from members of the site:
"I've been a Naughty America fan even before the days of VR, but I've never felt like I needed to leave a review until now. The VR scenes are out of this world. I think there are two things that make a good VR scene. There's the way the actors interact with you via the camera, and the visual quality of the scene. One aspect makes the situation feel real, while the other makes it look real. You need both to have a half-decent scene. All the VR videos I've watched so far show great attention to detail in these areas. 10/10!"
"Naughty America VR is something else. I want you to imagine that I'm looking forward to coming home from work to have sex with porn stars. Obviously, no porn star is at home, but the site is that damned good. I honestly don't feel like I need a woman. I hope that's not weird."
"If this were America, I'd take it over the one I live in now any day. Holy crap, this site is good! This site is very good! I don't know what the current formula is, but it's working. Don't change anything guys!"
---
Other Comparable VR Sites
Comparable Site: Check out our review on BabeVR
Comparable Site: Check out our review on BaDoinkVR
---
My Final Verdict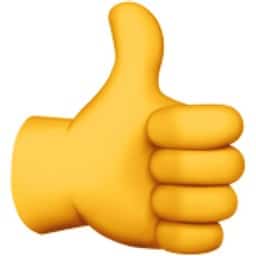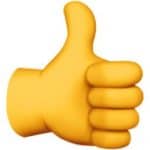 Naughty America is a household name in the adult film industry, so it's no surprise that the VR offering is just as stellar. There are amazing features that come with access to amazing videos from multiple sites.
The value of Naughty America VR cannot be overstated, so give yourself the gift of VR enjoyment and sign up.
---