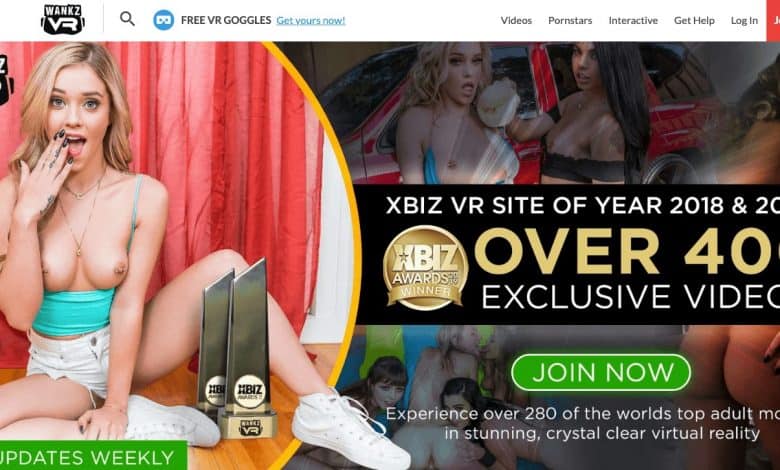 Interested in WankVR? There was a time when you could only enjoy porn on a screen. While that's still the way that most adult movies are available, we now live in an age where you have the choice to enjoy it outside of the confines of a screen. That brought me to review WankVR so keep reading.
It's nice to feel like a part of the production, and that's the feeling that you get when you watch porn flicks in VR. I don't know about you, but I've always salivated at the chance to get my groove on with some of the sexy stars I watch.
If you've ever wanted them to do dirty things to you, VR is the way to go. Today, I'm focusing on a site named WankzVR, which is one of the best options on the market for VR porn. Everything you need to know before you dive in is here, so why not get your reading started?
---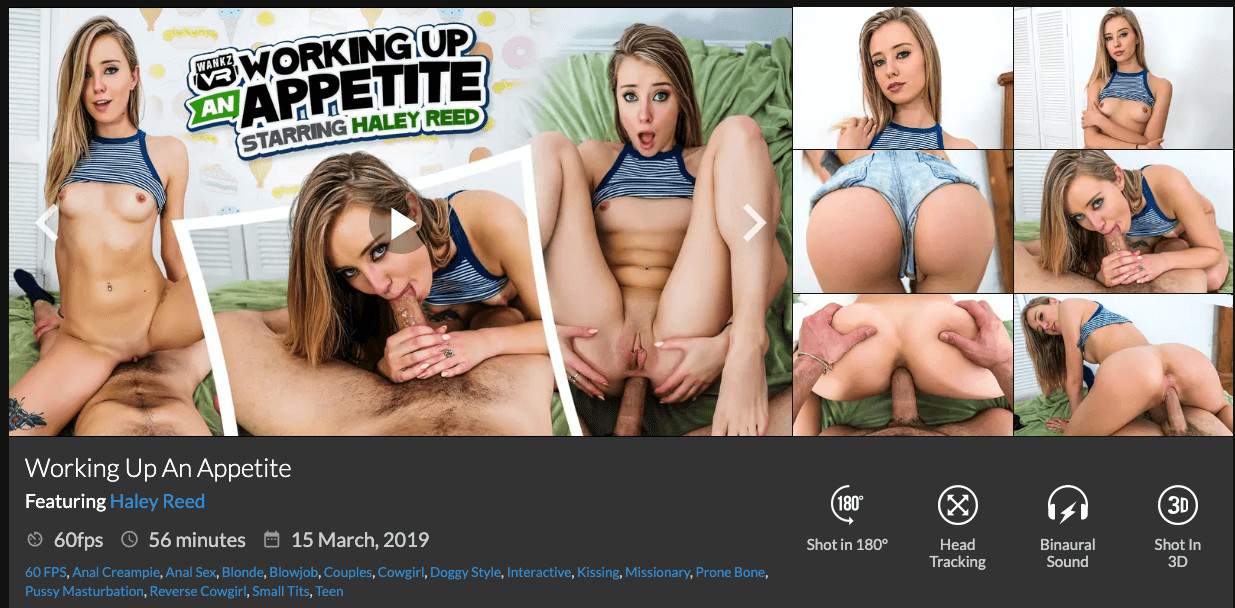 WankzVR is what you'd call a premier option in the world of VR porn. There are many reasons to be satisfied as you browse the site. Many people, including me, agree with this sentiment, which is a big part of the reason that the site was awarded for being the best VR site in both 2018 and 2019.
Now, you may be wondering which entity was responsible for such an award. The answer is none other than XBIZ. Just in case you have no idea what XBIZ is, let me paint you a picture.
The XBIZ Awards show has been going for about 15 years, and it's one of the biggest nights of the year for the adult industry. It's right up there with the AVN Awards show, which means you can think of the award as being akin to an Oscar.
It's not hard to see why the site is so special, as the amazing design and the sea of content speak for themselves. There is comprehensive device support and amazing support to top it off!
---
Is It worth It? My WankzVR Review


As we all know, this is no free service. Therefore, you need to be certain that you're getting your money's worth before becoming a member. Well, today's your lucky day, because it just so happens that I've been using the site for some time. So, here's my take where WankzVR is concerned.
The first and most obvious is the number of scenes. When I started with WankzVR, there were just over 250 scenes available. At the time of writing, there are over 415 scenes available for you to enjoy.
Of course, I'm only referring to the VR scenes here, as there are numerous non-VR scenes that you can watch as well. There are a couple of new scenes every week, which is something that always excites me. I haven't been through all the ones that were there when I started yet, so I'm yet to feel like I've run out of stuff to watch. The fact that the scenes routinely exceed 40 minutes (sometimes they can be up to two hours long) just reinforces that point.
I find WankzVR to be very easy to navigate, and I also find it to be a site that tries to be innovative. The videos are of amazing quality, and some of them even support teledildonics, so get ready to break out your toys.
You should also note that WankzVR is one of the few sites that offers female POV VR videos.
For me, this all comes together to create amazing value, which is why I'd say that a WankzVR membership is very much worth it.
---
Other WankzVR Customer Reviews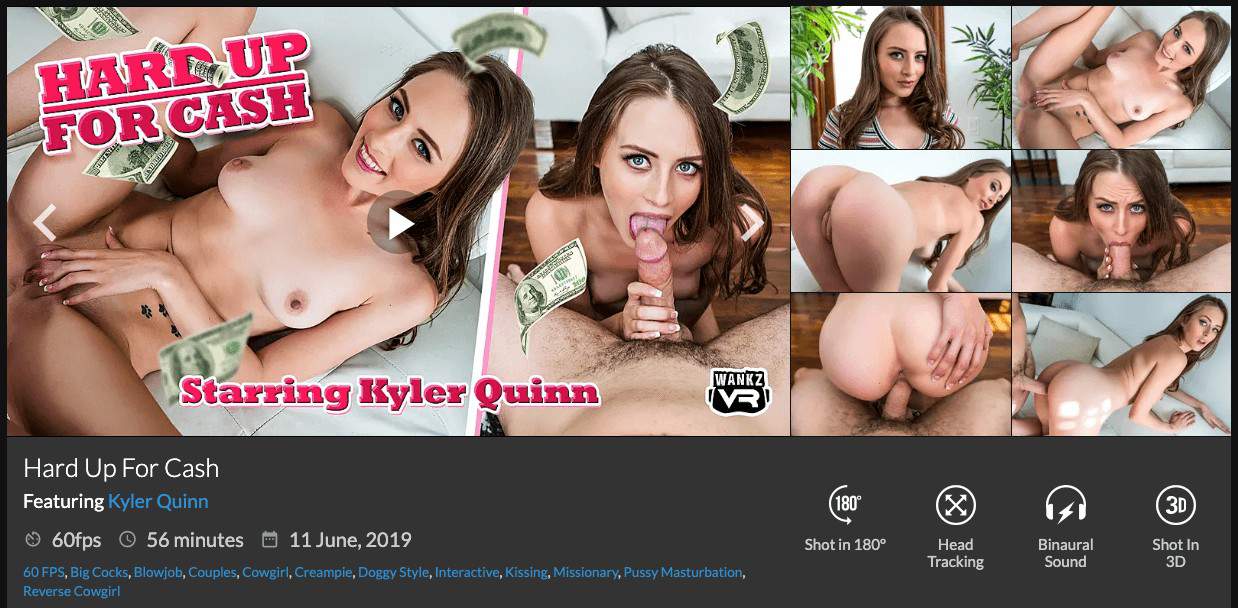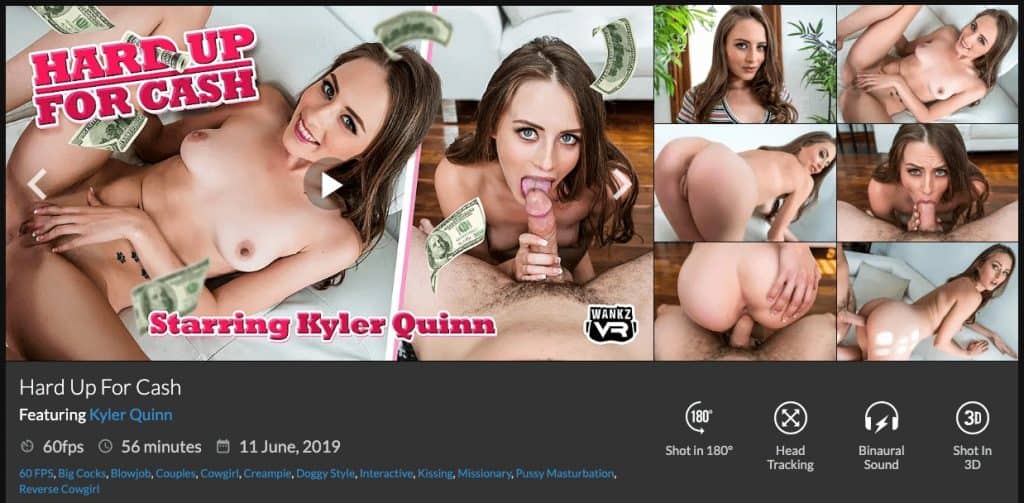 I'm not the only person who has ever used the award-winning site, so check out these reviews from some of the other satisfied WankzVR customers:
"I watch VR porn for the immersion. I don't want to remember that I'm watching porn when I'm supposed to feel like I'm having real sex, and this is where many of these VR sites fall short. I'm not sure what WankzVR does differently, but it works very well! I don't feel like I'm just watching porn without a screen. This statement may not make much sense, but it's like I am the porn. That's the best way I can express it."
"This isn't another niche VR site, and I love that. I understand that people have their fetishes and preferences in porn. However, I don't see how watching the same kind of thing all the time satisfies anyone. I'm all about variety where sex videos are concerned, so it's nice to see that traditional tags and categories are being used."
"WankzVR is the first porn site I've ever spent money on, and I honestly have no regrets about doing so. It's been a blast to experience the scenes that support my Vorze device."
---
Content and Variety on WankzVR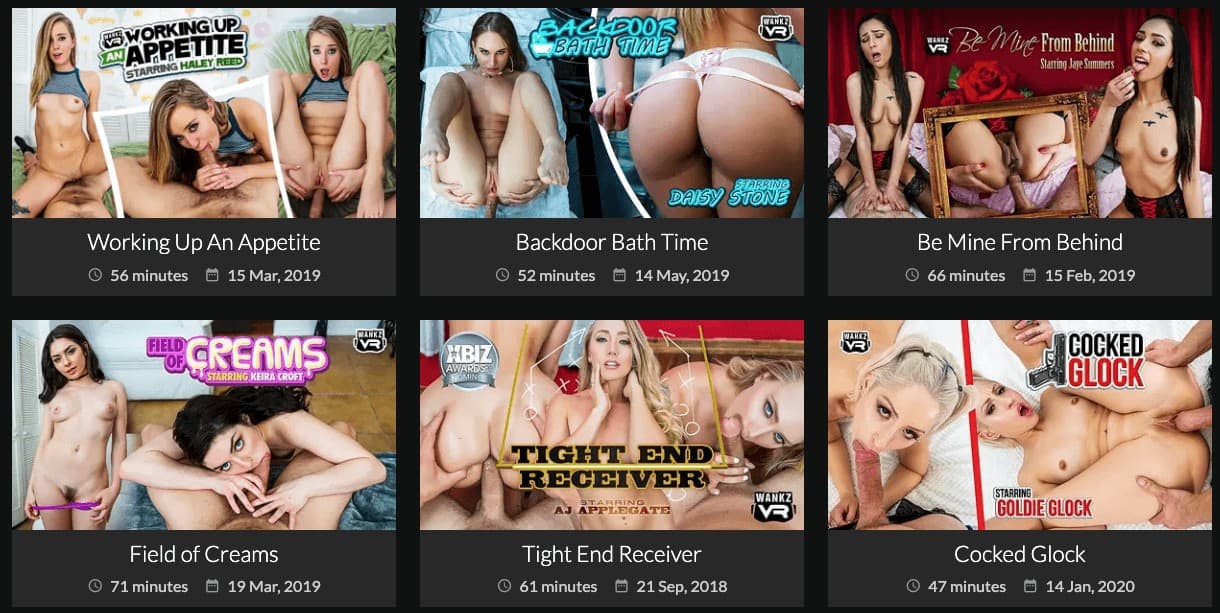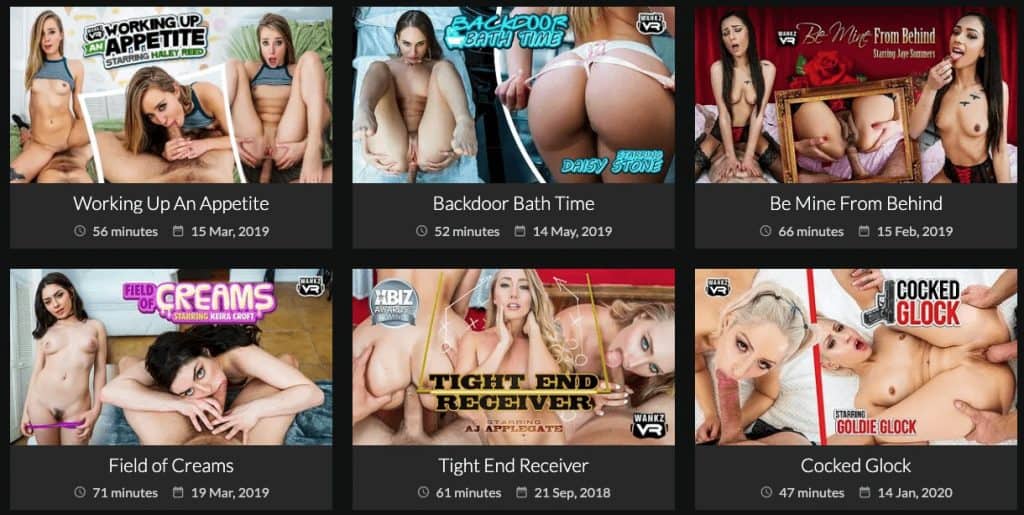 WankzVR has an amazing library of content for you to enjoy. As I indicated in my review, there are over 415 videos rendered in VR that you can enjoy. While they don't all support teledildonics, many of them do.
You should also note that the video catalog is updated with a video every Tuesday and Friday. So, there are two videos for you to look forward to every week.
Are you worried about seeing the same people or the same style of porn repeatedly? I can tell you right now that there's no such issue. There are over 315 porn stars that feature in WankzVR videos, so variety is present.
There are also 68 different categories that videos fall under too, which means that you can find something to watch regardless of what you're in the mood for.
Note that there are also filters and sorting options that you can use to further customize the videos that show up. Check out the WankVR blog to be updated with new content. You can filter based on date, popularity, porn star ethnicity, video duration, etc.
---
Overall Design of WankzVR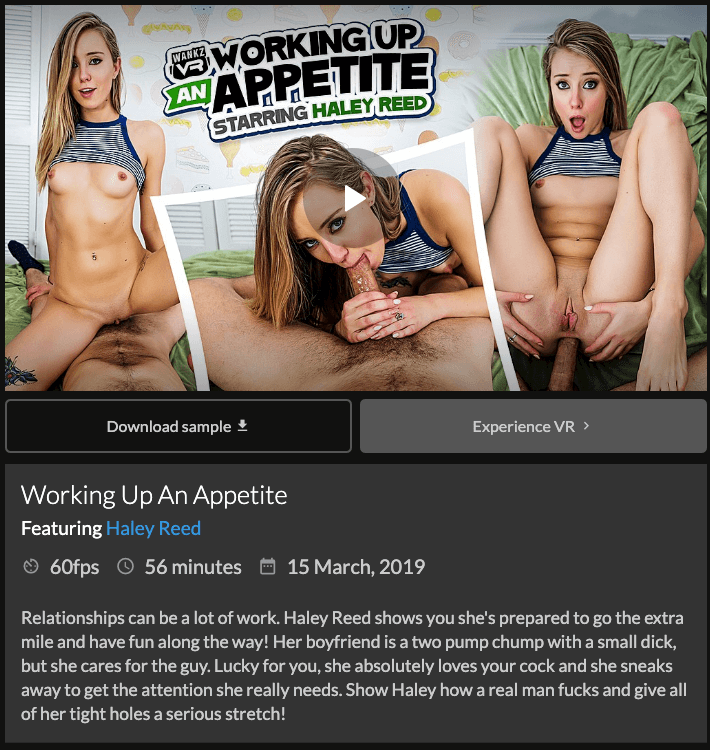 The design of WankzVR lends itself to a smooth and enjoyable user experience. I enjoy using a site that feels as if I can find whatever I need in a convenient place, and I get that feeling when I'm on WankzVR.
Of course, some of the design choices that go into the videos are just as amazing. Expect a 5K resolution with 180-degree head-turning, both vertically and horizontally. Binaural sound is also present to ensure that you get the most immersive design possible.
These touches, combined with the site's aesthetic that uses complementing colors, are the reason for the amazing experience that led to back-to-back awards.
---
Features of WankzVR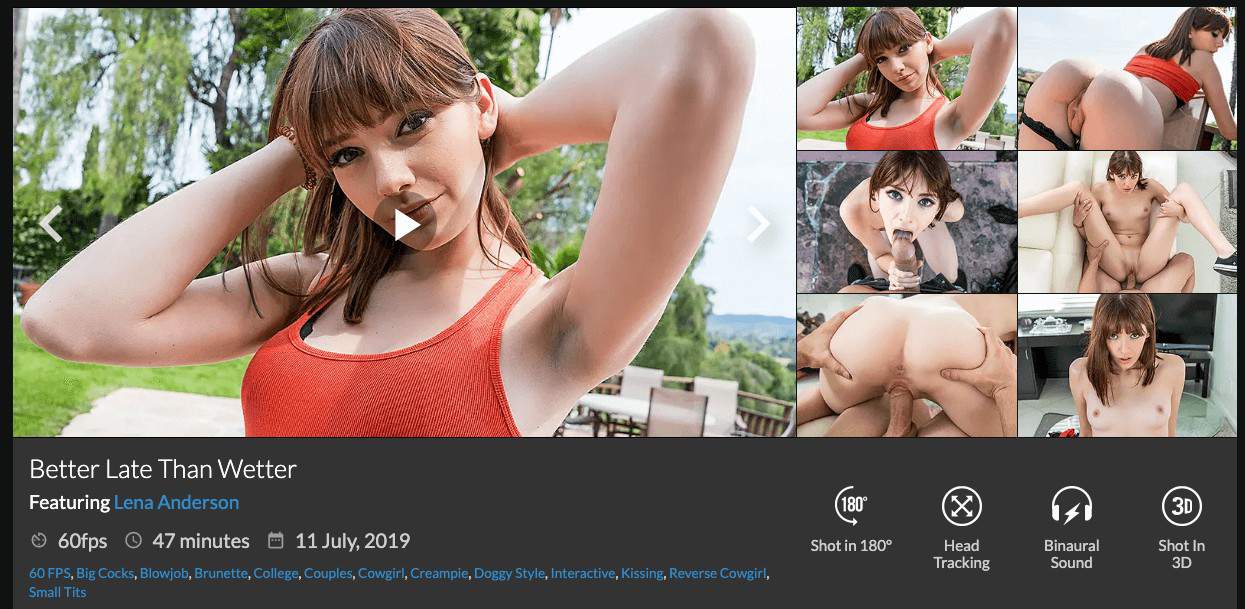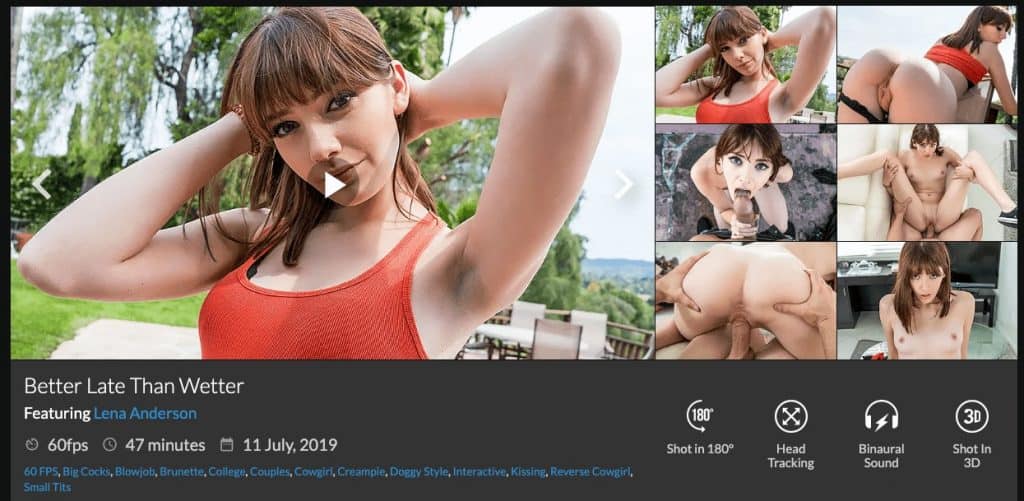 WankzVR is a very feature-rich site. Here are some of the best ones:
Scenes that support teledildonics
Support for all major VR platforms
Streaming and downloading capabilities for videos
180-degree head turning capability
Password-protected, branded Android app that allows for VR viewing both online and offline
---
Pricing of WankzVR
WankzVR membership falls into three tiers, which are:
Two-day trial –The cost is $1.99, and this is intended for those who want to test the waters.
Single month – The cost is $19.95, which is billed monthly.
12 months – The cost is $6.66 monthly, which is billed as an annual payment of $79.92.
---
Other Comparable VR Sites
Comparable Site: Check out our review on Pornhub VR
Comparable Site: Check out our review on VRBangers
My Final Verdict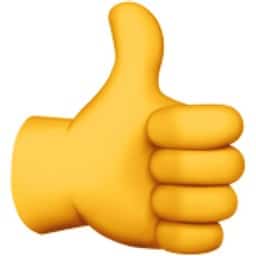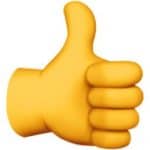 The WankzVR is one that you can only truly appreciate after experiencing it. Check out the get help page before signing up. There is a large content library, and there are many customization options that are present.
All this is wrapped in an aesthetically pleasing site that is bursting at the seams with features. I highly recommend WankzVR as a VR porn option.
---